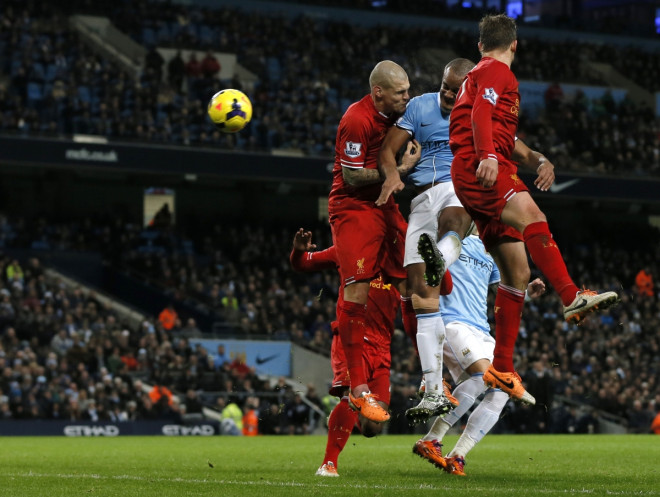 As we head into the final round of games in the 2013-14 English Premier League season on Sunday, the champions could still be Manchester City or Liverpool. It's been a long season of twists and thrills, and here are just a few of the key moments that's made this year's Premier League title race so thrilling.

1. Chelsea 2-1 Manchester City, 27 October 2013
Chelsea took the lead through Andre Schurrle, but Sergio Aguero levelled it off for City in the second half. With the game petering out in the 90th minute, City's makeshift defensive pairing of Matija Nastasic and Martin Demechelis (making his debut for the absent Vincent Kompany), aided and abetted by a wandering Joe Hart, make a complete hash of a routine clearance, and Fernando Torres strolled in to score with virtually the last kick of the game. With nine games played, Arsenal (22) led the table by two points from Chelsea, with City trailing in seventh place on 16 points.
2. Chelsea 2-2 West Bromwich Albion, 9 November 2013

On paper, this looks like the sort of dropped points against lower teams that have cost Chelsea their tip at the title this year. On grass, they were lucky to get away with it. With West Brom 2-1 up in the fourth minute of extra time Chelsea's Ramires went down and referee Andre Marriner was suckered into awarding a penalty, which Edin Hazard converted. Just for the record, 3 points here would have left West Brom safe a week ago, and no points would have knocked Chelsea out of the title race that little bit sooner.
3. Everton 3-3 Liverpool, 23 November 2013
Everton's Kevin Mirallas somehow avoided a straight red card for a first-half horror tackle on Liverpool's Luis Suarez, then went on to create his team's second and third goals, having already scored the first. If Mirallas had gone off, Liverpool may well have had an extra 2 points in the bank, though the watching world would have been denied a classic Merseyside derby, and Everton fans a "will they won't they?" nailbiter for Champions League qualification.
4. Manchester City 2-1 Liverpool, 26 December 2013

With the score at 0-0, Liverpool's Raheem Sterling was clean through on goal, but the linesman – wrongly – raised his flag. City goalkeeper Hart played to the whistle, so made no attempt to save the shot, but this "goal" could have saved Liverpool's season. A 2-2 draw would have deprived City of 2 points, and given Liverpool one more. With 18 games played, City went into second place on 38 points, with Liverpool 2 points behind in fourth.
5. Newcastle United 0-2 Manchester City, 12 January 2014

Edin Dzeko gave City the lead after eight minutes, but Newcastle thought they'd equalised when Cheikh Tiote banged an absolute screamer in after 34 minutes, only for ref Mike Jones to rule it out for offside. City doubled their lead in the last minute with Newcastle chasing the game, but if the scores had been level, might it have finished differently?
6. Crystal Palace 1-0 Chelsea, 29 March 2014

Seven minutes into the second half, Chelsea captain John Terry slammed in an own goal to ease Crystal Palace's lingering relegation fears and cost his team the 3 points that would have put them in second place and just 1 point behind City (as things turned out) going into the final game of the season.
7. Liverpool 3-2 Manchester City, 13 April 2014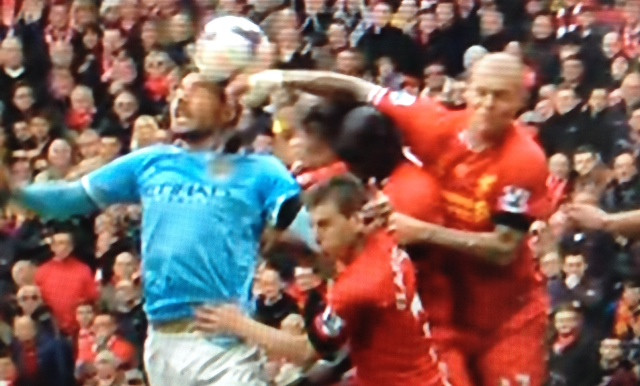 Liverpool went two up in the first half through Sterling and Martin Skrtel, and looked to be cruising to easy victory before City came back to 2-2 in the second half. Then, 12 minutes before the end, with City looking the more likely to score, captain Kompany – playing with heavy strapping to his left knee - shanked a right-foot clearance straight to reds' midfielder Coutinho, who stroked it in beautifully. But this wasn't a match where just the goals told the story. Key midfielder Jordan Henderson's late red card ruled him out of the next three games for Liverpool, including the ultimately costly games at home to Chelsea and away at Crystal Palace. City should have had a late penalty after Skrtel's rugby approach to defending corners resulted in him punching one away.
8. Liverpool 0-2 Chelsea, 27 April 2014

Liverpool fans look away. This is the game where captain fantastic Steven Gerrard slipped and gave the ball to Demba Ba, who scored the first of Chelsea's two on the stroke of half-time. On such tiny passages of play are titles won and lost. The world felt sorry for Gerrard and a new football chant was born.
9. Crystal Palace 3-3 Liverpool, 5 May 2014
Needing a win to keep the pressure on Manchester City, Liverpool raced into a 3-0 lead at Selhurst Park, before imploding in the final 11 minutes, conceding three goals in a manner reminiscent of Manchester United's 4-4 home collapse to Everton in 2011-12, a game that also handed the title advantage to Manchester City.
10. Sunderland - special mention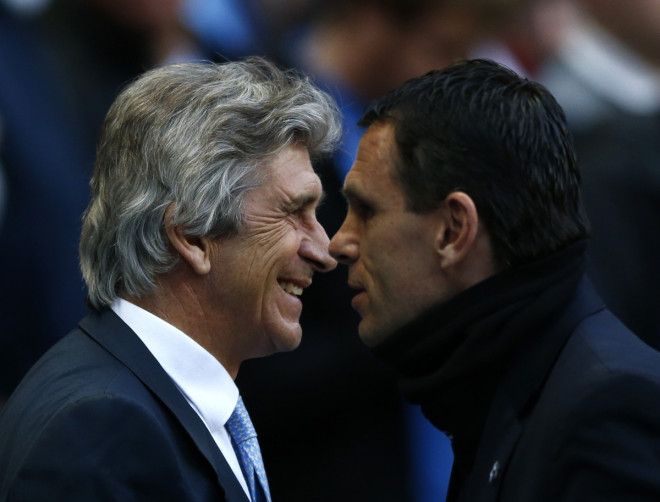 Gus Poyet's battling team has not only confounded the critics, but some top teams over the course of the season. They began their title-meddling antics with a controversial early-season 1-0 home victory over Manchester City, goalscorer Phil Bardsley appearing to foul City's James Milner before slamming the ball in the net. They continued their rich form against City with a 2-2 draw at the Etihad, in a game that City were lucky to draw but could have won, then beat Chelsea at Stamford Bridge and mid-table Manchester United at Old Trafford for good measure. No other team near the foot of the table has given so many teams near the top the jitters.