An ancient Buddhist temple has been discovered in Bangladesh which could offer a unique insight into the life of Buddhist saint Atish Dipankar.
A joint archaeological team from Bangladesh and China discovered the 1,000-plus-year old temple in Nateshwar of Tongibari upazila in Munshiganj.
Dipankar, a Buddhist teacher from the Pala Empire of Bengal, was born in the area over 1,000 years ago and the discoverers believe that this could be the temple in which he worshipped and taught, before travelling to Tibet.
Very little is known about his life, while Buddhism in the region has dwindled, but professor Chai Hunabo, head of the archaeology team from China, hopes that this could reignite some faith.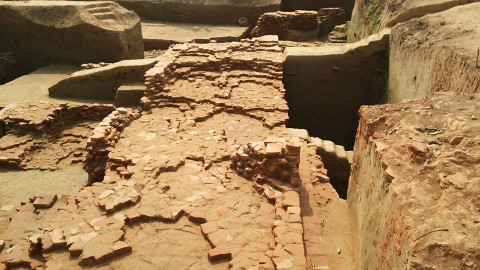 The Daily Star report that Hunabo told a press conference: "Touching the soils and walls here, my hands have felt Atish Dipankar's birthplace that had remained in his memories till his last days in Tibet. Here I can feel the religious reformation in Buddhism that had taken place from the 10th to the 12th century."
"This area could turn out to be a pilgrimage centre of Buddhism," continued Nuh Alam Lenin, director of the excavation project.
Professor Sufi Mustafizur Rahman, research director of the project in the Nateswar area, added: "This is one of the oldest archaeological sites in our country. We have collected a number of samples from here. After conducting carbon dating on them, we will be able to gather more information about the time when these structures were built."
Ashpits and pottery were discovered on the site following the 50-day excavation, as well as two roads and a wall almost three metres tall, which hint that the area was once wealthy.