The parents of one of the Al-Jazeera journalists jailed in Egypt have said they are confident they will be released soon.
Peter Greste's father told the BBC that he was optimistic that the journalists' convictions would be overturned soon.
Canadian-Egyptian Mohamed Fahmy, Egyptian Baher Mohamed and Australian citizen Greste were sentenced to between 7 and 10 years in prison for spreading false news to assist a terrorist group.
"The first trial was full of flaws and controversy," Greste's father Juris told the BBC.
"We believe that the only decision that the Court of Cassation can make is to overturn the original verdict. Therein will be Egypt's opportunity to demonstrate the integrity and independence of its appeals system."
An Egyptian court is set to decide whether the Jazeera trio have grounds for appeal later this week.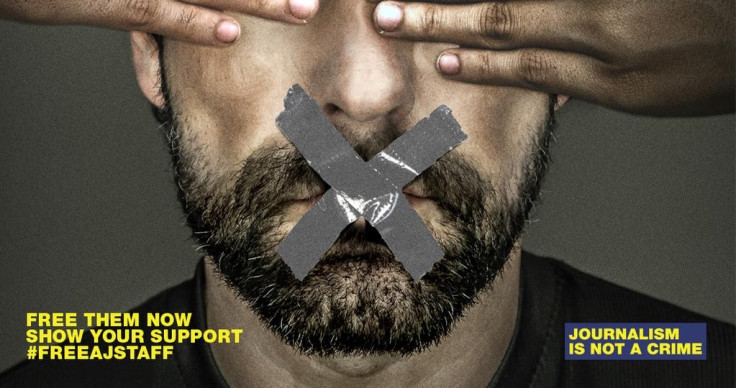 The journalists have strenuously maintained their innocence throughout the episode and denied working with the Muslim Brotherhood political movement. They say they were simply reporting news in the country.
The Brotherhood was banned in Egypt in 2013 after one of its leaders, Mohamed Morsi, was ousted from the presidency in a military coup the previous year.
Friends and colleagues of the imprisoned journalists have marked the anniversary of their arrests in newsrooms across the world.
Using the hashtags #FreeAJStaff and #JournalismIsNotACrime, social media users expressed their support for the journalists on Twitter, while a silent demonstration took place outside the Egyptian embassy in London.
Australia's Foreign Minister Julie Bishop said she had received mixed signals from the Egyptian government about the case.
"We had indications that Egyptian President Abdul Fattah al-Sisi would exercise his authority regarding a pardon or a clemency plea in advance of the appeal," she told the Australian Broadcasting Corporation.
"Yet, in the meantime, the Egyptian foreign minister has said to me that we have to await the appeal, so there are different messages coming from the Egyptian government."
Greste's Buddhist reading helping him cope
Greste's parents Juris and Lois visited their son Peter in prison over the Christmas break. They said he was keeping his spirits up with meditation, exercise and study.
"His Buddhist reading has helped him with the idea of living day by day rather than conjecturing any number of future outcomes which we really don't know where any one of them will end. So really that is the basis of his way of dealing with the situation," Juris said.
"[Those are] the things that sort of stimulate and keep him going, and not dwelling on the other side of the coin which is the difficult side and the loss of freedom etc," Lois added.
Egypt's government has come under pressure from international human rights groups to release the journalists, who they say were incarcerated for political reasons and cite a lack of evidence presented at trial.