13 Nigerian soldiers wounded, several missing as Boko Haram militants attack army base in Borno
The attack came amid speculation that many abducted Chibok girls are unwilling to leave their captors.
Around 13 Nigerian army soldiers were wounded after Boko Haram militants attacked an army base in Borno, while several others are been missing, an army spokesperson said on Monday (17 October). The attack came a week after the militants released 21 Chibok schoolgirls who were abducted more than two years ago.
The Nigerian government is hoping that 83 other girls held captive with the militants would also be released soon. However, a local community leader in Chibok said that many of the abducted girls do not want to leave their captors, fearing that they would not be accepted in the society.
Pogu Bitrus, chairman of the Chibok Development Association said that one reason for the girls not willing to return home could be that they have been radicalised by the Islamist militants. He also said that since many of the abducted girls are married to the militants and have children with them, they could be ashamed of being labeled as wives of terrorists and hence would not want to return.
He added that around 60 girls, who managed to escape their captors after a raid was conducted by government forces – immediately after their kidnapping in 2014 – had to face insults in Chibok and were labeled "Boko Haram wives".
At least 20 of those girls have been sent to the US for education. He suggested that the same needs to be done for the released Chibok girls to save them from being further humiliated.
Meanwhile, the latest Boko Haram attack came from a group of "suspected escaping remnants of Boko Haram terrorists", Colonel Sani Kukasheka Usman, Acting Director, Army Public Relations, said on Tuesday.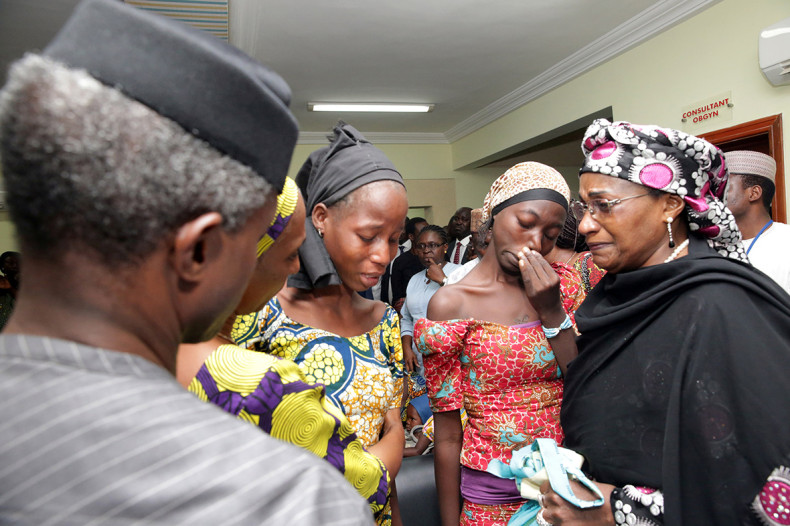 He added that the militants attacked their troops at Gashigar, an area near the border with Niger Republic in northern Borno state, at about 5.30pm local time (5.30pm BST) on Monday.
"The troops did their best to defend the location in vain. In the process, 13 soldiers sustained injuries while some are still missing in action," he was quoted by Vanguard as saying. He added that the "temporary setback made the troops to withdraw from the location".
Usman noted that the wounded soldiers are receiving treatment and efforts are on to trace the missing soldiers.