A 14-year-old girl who tweeted a alleged terrorist threat to American Airlines has been arrested in Rotterdam.
According to the official twitter of the Rotterdam police a 14-year-old girl has been arrested after making a terrorist threat to American Airlines on Twitter.
On Sunday a Twitter account belonging to a girl called Sarah tweeted the following message to the official American Airlines account:
"Hello my name's Ibrahim and I'm from Afghanistan. I'm part of Al Qaida and on June 1st I'm gonna do something really big bye."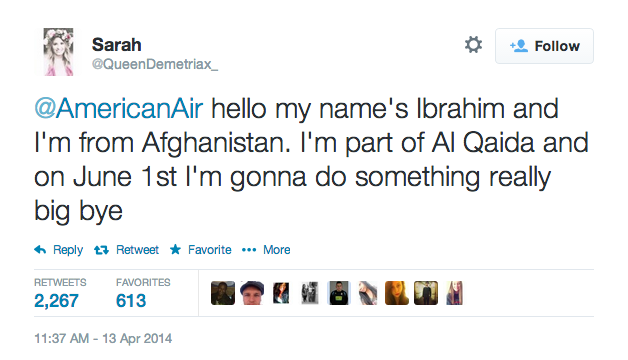 American Airlines responded sternly by saying: "Sarah, we take these threats very seriously. Your IP address and details will be forwarded to security and the FBI."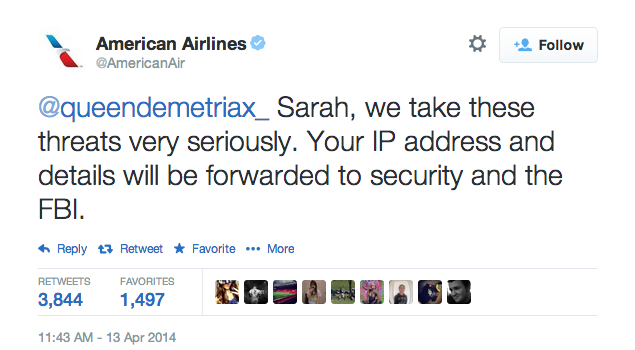 The conversation was quickly shared across social media with the 14-year-old quickly gaining 30,000 followers. However the @queendemetriax_ Twitter account has now been suspended and American Airlines has removed its response from its Twitter feed.
The girl, whose identity remains unknown, quickly realised her error and pleaded with American Airlines not to give her name to the FBI.
However it appears the threat from American Airlines was real, with the police in Rotterdam reporting on Monday afternoon that they had arrested a 14-year-old girl in relation to the American Airlines threat and that the investigation continues.