A derelict two-bedroom house in a "premier" Sydney suburb has hit the market ... for $1m AUD (£565,000).
In a listing that will allow long-suffering Londoners heave a sigh of relief, the house can been seen with a caved-in roof, cracks in the walls and piles of rubbish throughout the bedrooms. The sales details on realestate.com.au describes the property as "awaiting a complete renovation".
Located in Newtown - where the median price of a two-bedroom house is $1.315 million AUD (£743,000) - the house has been listed for the first time in almost 50 years. But inspecting the property is not as simple as just calling the agent.
According to the listing, the following rules must followed:
All attendees must sign a waiver before inspecting
Viewers must be over the age of 16
No open shoes can be worn on the site (no sandals or flip flops)
There are already seven open house inspections scheduled between 24 February and 17 March.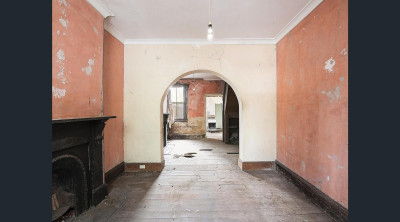 The property includes two bedrooms, a study, one bathroom, a kitchen and a small outdoor area over roughly 100sq m. It is situated near the University of Sydney, local train stations and Australian Technology Park.
Just in case you want to inspect the property, the listing advises, "bring a builder/architect and create a stunning modern home".
According to a report by CNN in June 2017, Sydney had the second most unaffordable housing market in the world (behind Hong Kong). London did not feature on the top-10 list, however Bournemouth and Dorset ranked 10th.