Passengers aboard a Lufthansa plane from Germany to New Jersey have endured constant screaming from a "demonic", misbehaving child.
One passenger sitting behind the three-year-old child managed to film his antics throughout the flight. The young boy was screaming, climbing over seats and running through aisles. Other passengers can be seen holding their hands over their ears
The mother pleads with the flight attendants to "get the Wi-Fi going" so that the boy can be entertained by an iPad. He is eventually allowed to run free through the plane.
"Finally it quiets (sic) a bit while the kid is free to run through the plane," Shane Townley wrote on his YouTube video.
Townley's video then provides hourly updates of the long-haul flight that show the child screaming non stop. Even once the plane lands and people are disembarking, the child can still be heard. "That was a nightmare, eight hours of screaming," one passenger can be heard saying.
According to the Daily Mail, the boy suffers from an unspecified disability. Townley told the Daily Mail he did not file a complaint "but I'm certain someone did as the entire plane was affected the whole time."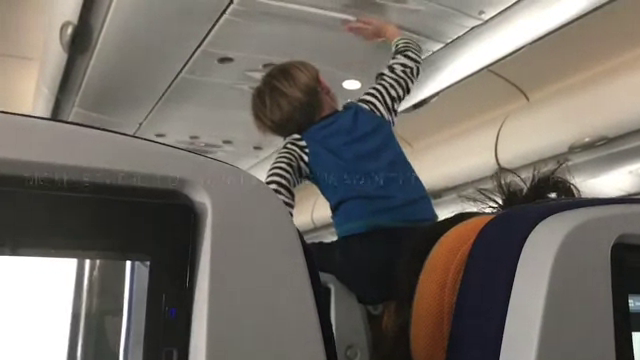 A Lufthansa spokesman said that passengers were understanding. "Our crew worked around the clock to de-escalate the situation, tend to all passengers and assist the mother," the spokesman told the Daily Mail.
On Twitter, some people were sympathetic towards the mother of the child. "I have one of these at home. He drives me nuts," one user wrote. "Nothing mom can do and I feel for her."
Others were less sympathetic: "They should stick all the family's at the back of the plane."
One person even condemned the person filming: "Shame on the person filming this minor! Putting his identity public. You should be very proud of yourself get up and offer help rather than criticising. The kid may have had learning disabilities or something."