YouTube has had to remove 20 porn videos that were hidden on the website for months, disguised using titles made from randomly translated Irish Gaelic words.
The video sharing website has strict policies on explicit sexual content as well as copyrighted material, but users were able to slip by its filters and upload full-length pornographic films to four YouTube accounts.
The videos were not detected as they were uploaded with Irish language titles.
The ruse was discovered by Maitiú Ó Coimín, a journalist with Irish-language news service Tuairisc.ie, whose flatmate was researching a university project by searching for "scannán" (the Irish word for film) and its plural "scannáin".
"It's not actually good Irish; it's just random words translated," Ó Coimín told Mashable. "The grammar and syntax is awful, it looks like it has gone through Google Translate."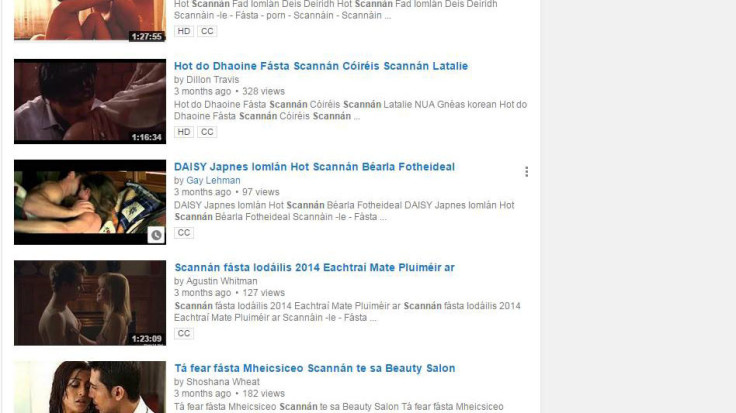 The videos had been up on YouTube for several months and appeared to have originated from Japan, the US, Italy and Russia. All four accounts were registered on the same day in October 2014.
The incident has raised the suggestion that there could be many other similar files hidden on YouTube, since although the video-sharing site is owned by Google, it still doesn't understand all of the 90 languages currently available on Google Translate.
YouTube took action to take the videos down as soon as it was made aware of the problem.
The video-sharing website said in a statement to the BBC: "YouTube's community guidelines clearly state that sexually explicit content is not allowed on our site. We remove videos and channels that violate our policies when flagged for our attention. YouTube staff review flagged videos 24 hours a day, seven days a week, to determine whether they violate our community guidelines."