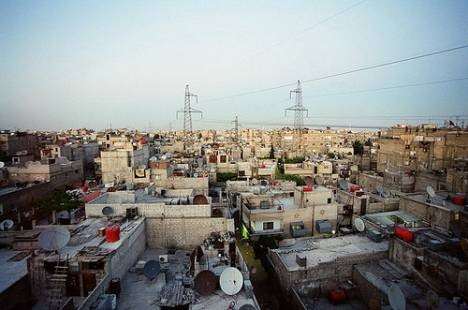 At least 21 civilians, including two children, were killed when a Palestinian refugee camp in the Syrian capital of Damascus was shelled, according to a prominent human rights watchdog.
The Britain-based Syrian Observatory for Human Rights (SOHR) said that mortars landed in the middle of the Yarmouk refugee camp, exploding in a marketplace packed with shoppers buying food for their evening meal.
Rami Abdul Rahman, director of SOHR, said they did not know who fired the rockets. "[We] don't know where the mortars came from, whether they were from the Syrian regime or not the Syrian regime," he said.
He said they may have come from nearby Tadamun, where rebels and government troops are locked in battle.
Palestinian commentator Rashad Abu Shawar warned against the camp becoming caught up in the fighting in mid-July.
"The flames are quickly approaching Yarmouk [as] someone is trying to drag the Palestinians into the fire," he told the Jerusalem Post.
Yarmouk camp is an "unofficial" refugee camp, home to the largest Palestine refugee community in Syria.
Established in 1957, it draws refugees from mosques, schools and other public places.
Fighting in Houla, Aleppo
SOHR also reported heavy shelling in Houla in the central province of Homs.
In May, Houla hit the headlines after it emerged 108 people had been massacred in the city, provoking an international outcry.
Fighting continues in Aleppo, with activists claiming Syrian troops have bombarded the Salaheddin neighbourhood, the rebels' main stronghold in the city. Clashes are also being reported in nearby al-Zebdiya.