Three North Korean suspects in the Kim Jong-nam assassination were allowed to go home from Malaysia, the Malaysian police chief said on Friday (31 March), according to the Associated Press.
Media reports said they were on the same flight that carried the body of the estranged half-brother of Pyongyang leader Kim Jong-un.
The police chief added that the suspects were allowed to leave after getting their statements.
Reuters earlier reported that photographs it obtained from Japan's Kyodo news agency showed Hyon Kwang Song, the second secretary at the North Korean embassy in Kuala Lumpur, and Kim Uk Il, an employee of North Korean state airline Air Koryo, were on the Beijing-bound Malaysian Airlines flight MH360 on Thursday (30 March) evening.
The men in the images reportedly matched the photographs released by the Malaysian police in the past.
Additionally, Malaysian media reported that another North Korean wanted in the murder case, Ri Ji U, also known as James, was on the flight to Beijing. He was believed to have been hiding with the other two at the North Korean embassy in Kuala Lumpur since the killing.
Four other North Korean suspects named by the Malaysian police were believed to have fled to Pyongyang soon after the murder at the Kuala Lumpur International airport on 13 February.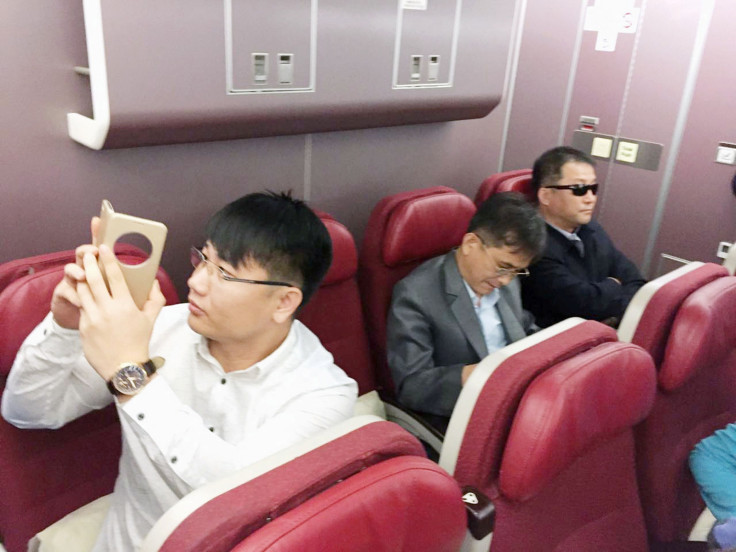 Malaysian authorities released the body on Thursday, after having declined to do so for over a month, in order to secure the release of nine of their citizens who were detained in Pyongyang amid a growing diplomatic spat between the two nations.
The row began after Malaysia refused to send the body to North Korea over suspicions that Kim Jong-un had ordered the assassination of his exiled brother. Pyongyang accused Malaysia of manipulating the investigation into the death.
Contrary to the Malaysian police's claims that the exiled Kim died after two women smeared a highly toxic chemical, called VX nerve agent, on his face, North Korean officials claimed that the man died of natural causes as he was suffering from several chronic illnesses.
North Korea was also enraged after Malaysia named several North Koreans, including the diplomat, as suspects in the case, seeking their arrest.