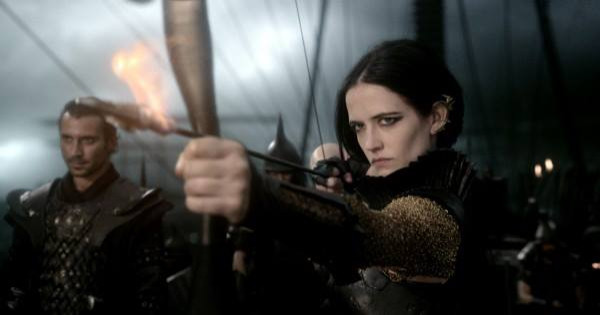 300: Rise of an Empire conquered the post-Oscars box-office weekend and how!
The Eva Green-starrer sequel opened to a domestic debut of $45.1mn (£27mn) and even bigger international collections of $87.8mn (£52mn), according to a Yahoo report.
The sequel comes seven years after the original 300 starring Gerard Butler became a benchmark in ultra-stylish and slickly edited comic book adaptations.
While 300: Rise of an Empire didn't come close the North American debut of Zack Snyder's 2007 original ($70.9 million without the benefit of 3-D ticket pricing), it has set the cash registers ringing overseas.
Rise of an Empire, which further portrays the ancient battles of the Greeks and Persians, led a busy box-office weekend that also saw a jump in collections for 12 Years a Slave, thanks to a good run at the Oscars, and "one of the highest per-screen averages ever for Wes Anderson's European caper The Grand Budapest Hotel," states the Yahoo report.
Eva Green's fierce presence in Rise might be a big reason for the otherwise 'male-centric' film opening well at the box-office. Whereas the female audience for the first 300 was only 29 percent, it was 38 percent for Rise of an Empire.
"Talk about female empowerment," said Jeff Goldstein, head of domestic distribution for Warner Bros., said of the Casino Royale actress.
Goldstein credited the visual panache of producer Snyder (Noam Murro took over directing), who drew directly from Frank Miller's graphic novels. "He brings a lot to the screen that mesmerizes you."
Paul Dergarabedian, senior media analyst for box-office tracker Rentrak, said the '300' franchise "translates to virtually every culture. Every country can appreciate the visuals of these movies."
Below are the top five US weekend grossers, with approximate ticket sales for Friday through Sunday at US and Canadian theatres, according to Rentrak:
1. 300: Rise of an Empire, $45.1 million ($87.8 million international).
2. Mr. Peabody & Sherman, $32.5 million ($21 million international).
3. Non-Stop, $15.4 million ($12 million international).
4. The Lego Movie, $11 million ($9.9 million international).
5. Son of God, $10 million.