A 3D image of a mechanical heart pump inside a patient's chest has won the Wellcome Image Awards 2014. The image was created by Swedish scientist Anders Persson using a new type of scan known as dual energy computed tomography (DECT) angiography, in which a patient is scanned using two sources of X-rays at different energies. These are then digitally reconstructed in three dimensions and can be rotated, sliced or magnified for greater clarity.
BBC medical correspondent Fergus Walsh said: "Anders Persson's 3D image of a mechanical heart fitted inside a human chest is truly stunning. The juxtaposition of delicate human anatomy with the robust mechanical plumbing parts is dramatic, and the image is rendered so vividly in 3D that it appears to jump out at the viewer."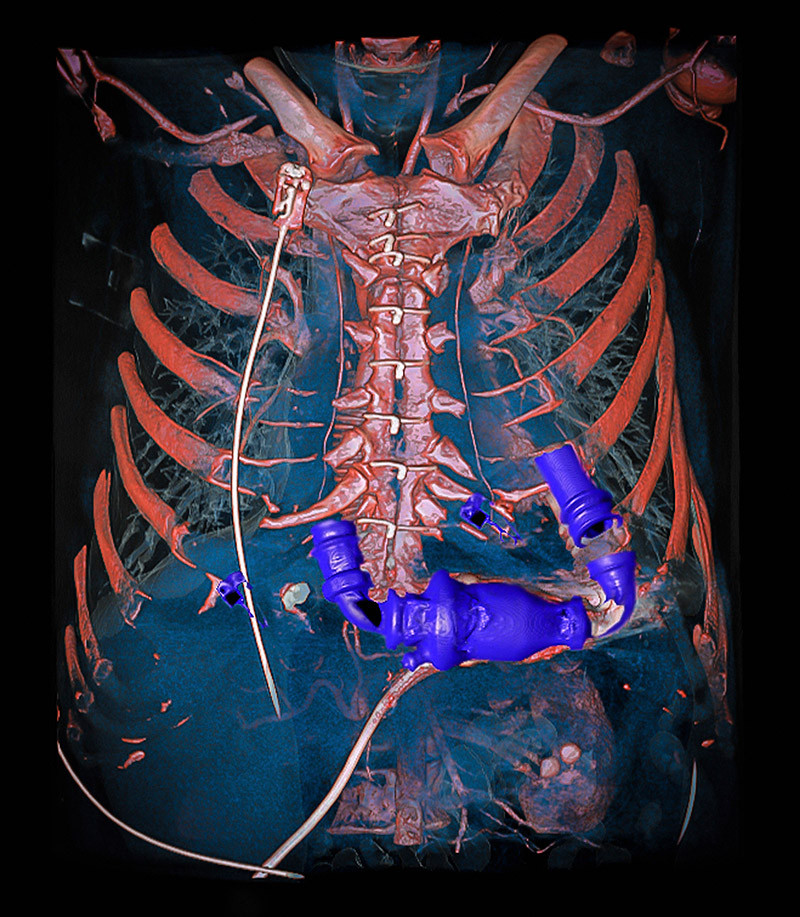 The Wellcome Image Awards celebrate the best in science imaging talent and techniques. Other finalists included scanning electron micrographs of a kidney stone and a headlouse egg, an X-ray of a bat, a 3D computed tomography image of a seal skull and a cross section of a flower bud.
Walsh added: "As always, this year's entries are both technically brilliant and visually spectacular. Never before have I thought of a kidney stone or a nit as beautiful but the Wellcome Image Awards show time and again that there can always be a different way of looking at things."
The winning images will be displayed at four major science venues as well as in a window display at the Wellcome Trust's headquarters in London. Glasgow Science Centre, the Museum of Science and Industry (MOSI) in Manchester, Techniquest in Cardiff and W5 in Belfast will all host simultaneous exhibitions, and there will be a display at the Ruskin Gallery at Anglia Ruskin University in Cambridge during the Cambridge Science Festival.