Around 46 Muslim clerics from the northeastern Indian state of Assam have issued a fatwa (a religious ruling) against a teen Bollywood singer. The diktat was issued against Nahid Afrin for singing in public and her act was termed "anti-sharia".
IBTimes UK has obtained the leaflet which was circulated across Hojai and Nagaon districts of the state on Tuesday (14 March). An excerpt from the notice published in Assamese language read: "If anti-Sharia acts like musical nights are held on grounds surrounded by masjids, idgahs, madrassas and graveyards, our future generations will attract the wrath of Allah."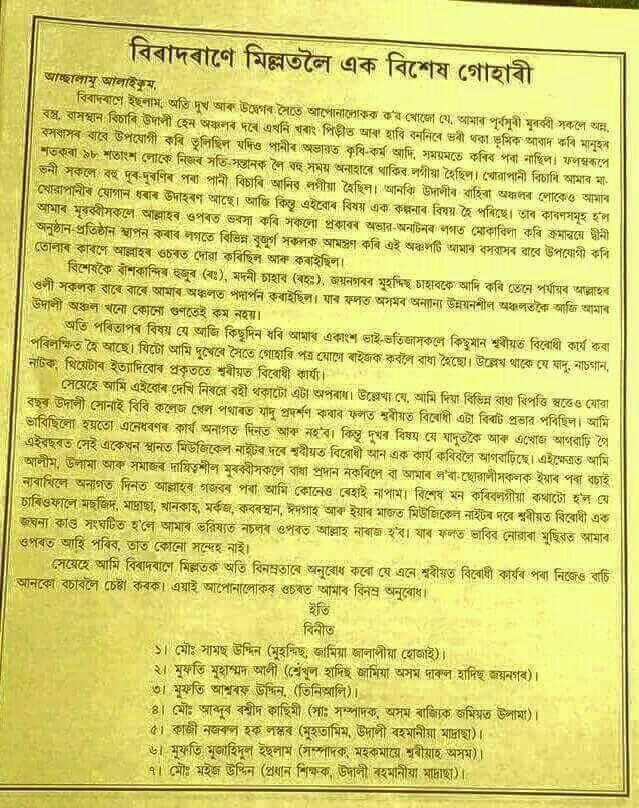 The 16-year-old upcoming singer has expressed shock over the fatwa and said that she was left"speechless".
"I was shocked and broken from inside at first. But, many Muslim singers gave me inspiration to not quit music. I will never do so. My singing is a gift of God I believe it must be properly utilised, not doing so is ignoring God," she told ANI.
Afrin was the first runner-up in the talent show Indian Idol in 2015 and got her big break a year later in the Indian film industry where she sang in a movie titled Akira that had actress Sonakshi Sinha play the lead.
The high school student reportedly sang an Arabic song during a performance and many locals claimed that clerics were not happy with her song that was against terrorism. The police launched an investigation into the incident and top officer Pallab Bhattacharya said, "We are looking at this [anti-Isis] angle as well."
Support has been pouring in for the aspiring singer since the fatwa was issued. Afrida Hussain, head of Radio Mirchi Assam – a local radio channel – told IBTimes UK in a telephonic conversation, "Fatwas are a threat to society. We live in a secular nation. Assam is popular for its religious harmony and instead of encouraging talented people, such fatwas only diminish the state's progressive thought."
Mofid Rahman an associate partner with a research institute in Assam also expressed his fury over the incident and said: "Nobody has complained regarding Azaan at Fazar at full volume so early in the morning in Assam. So please don't talk about sound pollution. Peace is what Islam means and it should stay so. Absolutely no place for radicals in my Assam."
The singer is scheduled to perform at a musical event next week and her mother confirmed that they family was getting all support from the police. "The organisers of the musical night told us that the programme on March 25 will not be cancelled," she told Times of India.