On Tuesday (10 January), Buzzfeed published an unverified intelligence dossier allegedly written by a former MI6 agent that contained shocking revelations linking President-elect Donald Trump to a shadowy Russian conspiracy. It almost seemed too good to be true.
According to users on 4Chan, the notorious messageboard known as a breeding ground for internet trolls, that's because it was. One key section specifically: the claim Trump hired a hotel suite previously used by president Obama and hired prostitutes to perform "golden showers".
Moscow's Ritz Carlton, said to have been used for the urination sex act, was reportedly under "FSB control" and concealed cameras in all the main rooms were used to grab footage that could later be used to blackmail the incoming commander-in-chief, the report suggested.
The claims were audacious – and it should be stressed – without evidence.
Yet almost as soon as Buzzfeed's report was published a series of posts to Twitter and Reddit also emerged, saying the document was the work of 4Chan.
The claim, which quickly spread to Reddit's /r/The_Donald section, said the idea originated as "fan-fiction" and was sent as a prank to a Republican political consultant called Rick Wilson.
In a 4Chan thread from 1 November 2016, a week before the US election, users on /pol [Politically Incorrect], a sub-category on the website, described how Wilson then "thought [the claim] was real" and gave it to the Central Intelligence Agency (CIA). Next, the post added, the fake information was used in reports to brief both Obama and Trump.
"So they took what I told Rick Wilson and added a Russian spy angle to it. They still believe it. Guys they are truly f***ing desperate – there's no remaining Trump scandal that's credible," an anonymous post stated on 4Chan at the time.
'Mom come quick, my fan fiction got published by the CIA'
A Twitter user going by the name ST Prudence tweeted several messages suggesting they had made up stories included in the 35-page dossier published by Buzzfeed. The account, which claims to be based in Basingstoke, England, said: "That feeling when you wake up from your neet slumber to find Rick Wilson passed on your fan fiction to the CIA and the media."
The account added: "It was pretty obvious over-the- top p*ss fan fiction. Ricky boy never released it before the campaign ended so I assumed he found out .Mom come quick my fan fiction got published by the CIA... I sent golden showers or 'British intelligence' to a lot of sh***y journalists...speaking to a lawyer today about publishing stuff."
On 10 January, a person with the pseudonym "Mr Bones" tweeted: "4chan trolled Rick Wilson with the Trump piss story back in November 2016. Media or CIA added Russian spies themselves. This is not a drill."
It should be noted, 4Chan users are well-versed internet pranksters and, much like the so-called Trump dossier, should be taken with a grain of salt. None of the 4Chan posts contain references to any specific content in the leaked report nor explain how it reached the media.
Wilson kicks back
Wilson, responding to a barrage of tweets directed at him, published a blog post denying he was Buzzfeed's source. He wrote: "I've never had possession of that memo, never shared it, never pitched it, and never requested or caused others to do so."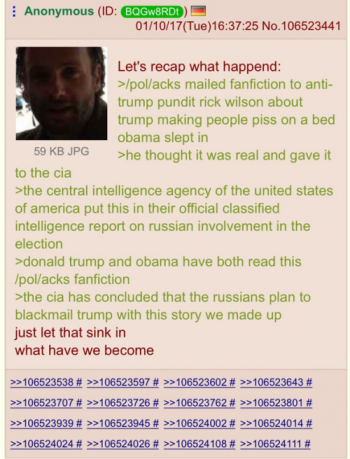 He continued: "This information on Trump's various personal and business dealings in Russia was being pursued by major campaigns and by major media to my knowledge as early as late July of 2015.
"The real shame of this entire situation is that we're wasting valuable time Trump could be using to uncover the real secrets of [...] Hillary Clinton's Pizzagate global child kidnapping and cannibalism ring. You know, the important stuff," he added, referencing a known conspiracy theory.
Donald Trump, for his part, slammed the report as "fake news" and said it constituted a political witch hunt.
He tweeted: "Intelligence agencies should never have allowed this fake news to 'leak' into the public. One last shot at me. Are we living in Nazi Germany?"
Later, he added: "Russia has never tried to use leverage over me. I HAVE NOTHING TO DO WITH RUSSIA - NO DEALS, NO LOANS, NO NOTHING!"
In the face of both criticism and denial, Buzzfeed's editor-in-chief said his publication released the unverified document in full so "Americans can make up their own minds" about the allegations contained within. He added the choice to publish "reflects the job of reporters in 2017".
A spokesman for Russian president Vladimir Putin has dismissed the allegations. "The Kremlin has no compromising dossier on Trump, such information isn't consistent with reality and is nothing but an absolute fantasy," said Dmitri Peskov, the Associated Press (AP) reported.