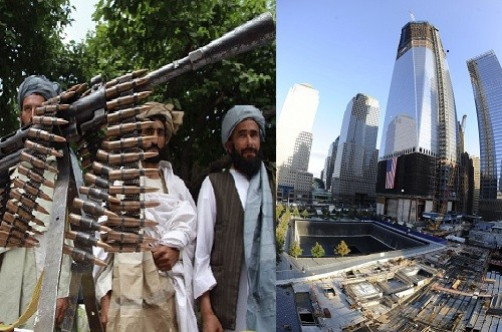 On the eve of the 11th anniversary of the 9/11 terror attack, the Taliban has served a grim reminder to Americans of the threat they continue to pose.
In a statement, the Taliban said Americans are not safe anywhere in the world, adding that the US faces annihilation in the Afghan war.
"The anniversary of 9/11 is approaching America this year at a time when it is facing utter defeat in Afghanistan militarily, politically, economically and in all other facets and it has exhausted all other means through which to prolong its illegal war," says the Taliban statement, according to the US-based SITE Intelligence Group which monitors militant groups' websites.
The statement says that the US has no ethical or legal basis to wage a war against Afghanistan as there was no Afghan involvement in the 9/11 incident.
The 9/11 attack killed nearly 3,000 people in 2001, prompting the US to retaliate against al-Qaida and its ally, the Taliban.
The militant group vowed to defend its homeland and continue to fight against any "invaders", and said:
"The Islamic Emirate, on the eleventh anniversary of the September incident, once again calls upon the American officials, its coalition members and its people to halt shedding the blood of the oppressed Afghans under this pretext and to follow the path of sound reasoning instead of tyranny and stupidity."
An earlier report published by the Royal United Services Institute, which claimed that the Taliban would soon break its ties with al-Qaida and be ready to negotiate with the US for developing Afghanistan, was also denied.
Rebutting the report, Taliban spokesperson Zabihullah Mujahid told Reuters: "The report is a lie and is baseless. We have never wanted the Americans to stay in Afghanistan and this has always been our position."