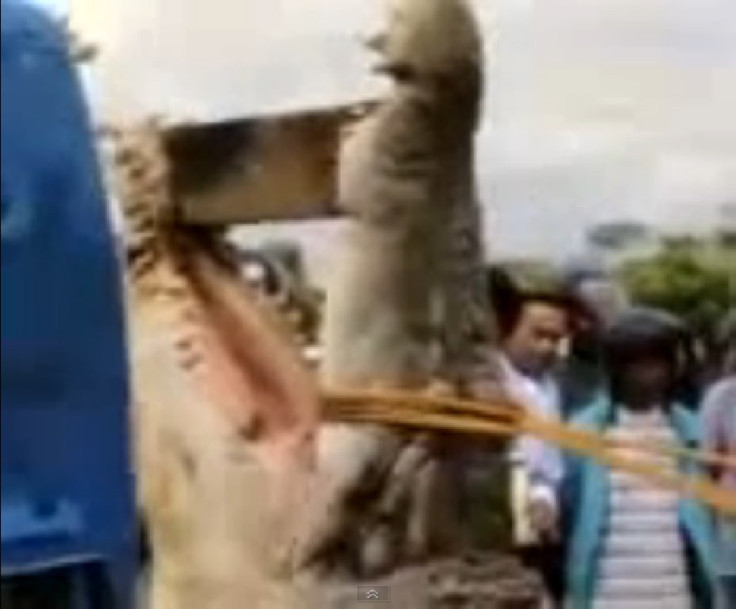 A Campaign to Release a 21-foot-long crocodile accused of eating a man alive has been set up in the Philippines.
Animal rights activists have urged Philippine authorities to return a captured giant crocodile back to the wild, but the Mayor of the town has refused to do so on grounds that the crocodile is a risk to the safety on the town's residents.
The giant crocodile, named"Lolong," is being held in the Philippines on charges on eating a human. The now-famous reptile is also accused of biting off the head of a 12-year-old girl in 2009 in the town of Bunawan.
"We were very nervous about tackling this beast, but it was our duty to deal with it because it was a threat to many villagers and their farm animals," said the local mayor, Edwin Elorde in an article in the Daily Mail.
"When I finally saw it after its capture I couldn't believe my eyes," said Elorde. "It was big enough to swallow three men all at once."
Despite the suspected death of the fisherman, the crocodile is destined for fame. The Mayor of the town has revealed that the plan for the crocodile is to make it the star attraction at a new eco-tourism park in Agusan, Mindanao.
"It will be the biggest star of the park. The villagers, of course, are very happy that they have been able to turn this dangerous crocodile from a threat into an asset," said Elorde.
People for the Ethical Treatment of Animals senior Asia-Pacific campaigner Ashley Fruno on Saturday said that despite suspicion it is a man-eater, the reptile was better off being returned to the wild, away from human settlements.
"(The government) should do the compassionate thing and order this crocodile to be returned to his natural habitat, as taking him away to be locked up in an animal prison is just plain wrong," the Associated Foreign Press reports.
The crocodile's domain is said to be a river system in the Agusan poverty stricken region 500 miles south of Manila where the crocodile was said to have put the fear into the lives of residents. However, until the death of the fisherman no resident was brave enough to tackle the crocodile.