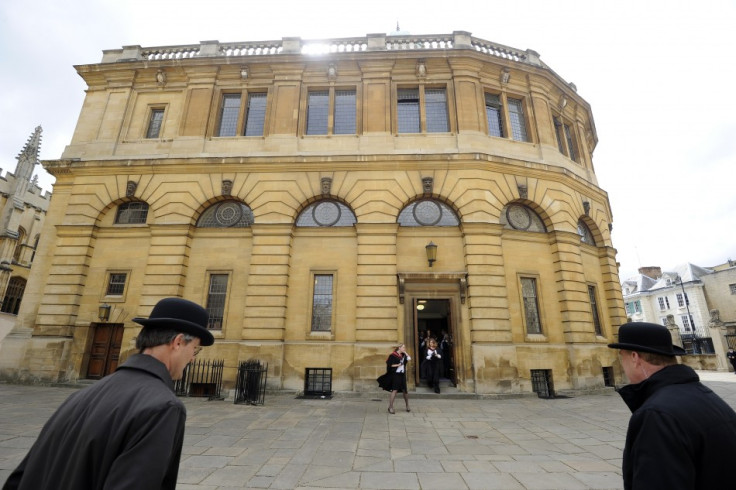 According to reports in the Telegraph, record numbers of students are set to miss out on their first choice university and will have to go through the pressures of UCAS clearing.
The newspaper reports that the University and Admissions Service is braced for its busiest day ever with an estimated 220,000 students competing for only 40,000 university places through the UCAs clearing system.
Tens of thousands of UK a-level students are set to find out whether they have received a place at their first choice university. Tens of thousands of UK students who have not made the grade for their chosen university now face a scramble to get a place at university in September
The number of students awarded the prestigious A* grades is set to reach figures of almost one in ten, eclipsing last year's total of 8.1 per cent. Academics have said that the pass mark has risen for the 29th year in a row.
Students from independent and state grammar schools are expected to dominate top grades this year with estimates that pupils will score twice as many A*'s.
In an interview with the Telegraph, Education minister David Willetts expressed his dissapoitment at the news of the rise in students entering UCAS clearing.
"It is, of course, particularly disappointing for people who have got very good A-level grades and don't get a place. That's particularly true in areas like medicine where just about everyone who applies has got three A's and the number of places is restricted because of the needs of the NHS," he told the Telegraph.
"We have had for several years about 3,500 young people with really good A-level grades not getting a place. That is why one of the first steps in our reforms was to remove all quotas - number controls - at our universities for students who get AAB grades or better," he continued.
Advice for students applying through UCAS clearing
1. Get advice - Ask a careers adviser for guidance on what course and subjects would suit you.
2. Look at vacancies - The Ucas website publishes official lists.
3. Contact universities and colleges - Once you have your exam results, get in touch to see if you can get a spot through clearing.
4. Clearing number - Get your number from the Ucas website. Institutions will ask for it.
5. Deciding on an offer - When you speak to universities and colleges, you may get informal offers.
6. Adding a clearing choice - If provisionally offered a spot, you need to add it on the Ucas website by the date given.
7. Your place is confirmed - Confirmation is sent once an institution learns you have added them on the Ucas site and accepted you.
The National Union of Students said moves by UCAS to reform admissions have been welcome, saying they were pleased that recognition of vocational qualifications, and admissions that take account of a student's circumstances as well as grades, were now on the agenda, as well as "post-qualification admissions" (PQA).
Under PQA, students apply to university after receiving their A-level results.
But NUS president Liam Burns said: "Unless applicants are given better advice about how they should handle their applications and universities become much more transparent about the criteria they use to decide between applicants, then mistakes will be made and talented young people will risk missing out on a university place because of poor guidance."