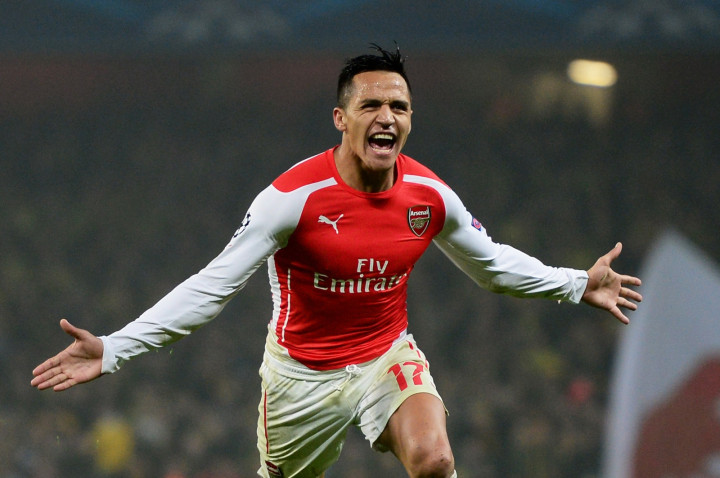 Arsenal midfielder Aaron Ramsey believes that Chilean Alexis Sanchez is at the same level as South Americans Sergio Aguero and Luis Suarez, both of whom have lit up the Premier League in recent seasons.
The Uruguayan was prolific during his spell at Liverpool and also was top scorer last season, before he moved to Barcelona this summer. Manchester City's Argentinean forward has also established himself as one of the star forwards of the Premier League and the Gunners midfielder feels that the Chilean is right up there with the best.
Sanchez, who arrived from Barcelona in the summer, has taken to the Premier League like a duck to water and has been single-handedly winning games for the north London club. He has already scored 13 goals in 20 appearances for the Gunners this season.
Ramsey revealed that the former Barcelona player is a hard worker in the training ground and is glad that he is a part of the Arsenal team.
"With the South American players, it is sort of bred into them to work hard, he is no different to any of the other players like Suarez or Aguero, so we are grateful to have him in our team," Ramsey said, as quoted by the Mirror.
"He gives 100 per cent - everybody is at it in training all the time. We like to train hard. He works hard for the team and when he gets an opportunity to score, he scores. we are grateful to have him in our team."
The Welshman is impressed by the South American's movement off the ball and is sure that with Olivier Giroud available, it won't be too long before Arsenal are scoring more freely.
"It took him a couple of games to get into it, but he has not stopped scoring since. The thing which has impressed me most about him is his work-rate off the ball. It is always nice when the team is scoring goals, at the moment, he is doing it."
"Olivier Giroud scored the other day [in his first game since suffering a broken leg in August] and he is coming back into it now, so hopefully we have the players who are scoring goals," the former Cardiff City player explained.
Arsenal travel to West Bromwich Albion on Saturday and will hope to arrest their recent slump and get back to winning ways in the Premier League.