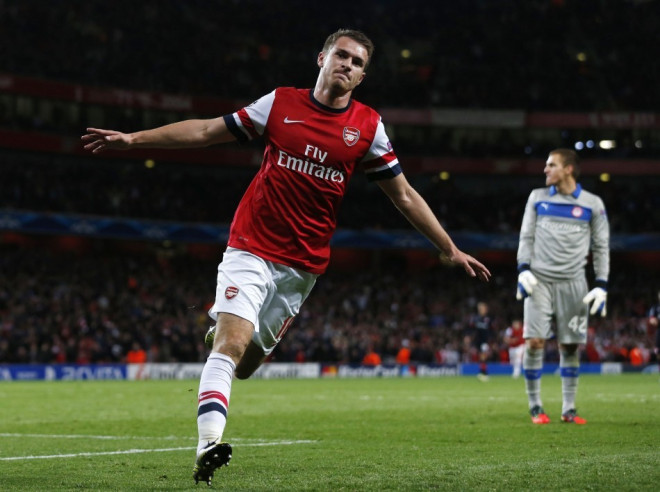 Aaron Ramsey has revealed how Arsene Wenger's desire and hunger to have him at Arsenal really influenced him as a youngster and led him to snub Manchester United to make his way to the Emirates stadium .
The Welshman revealed that Wenger, who was commentating at the Euros during that time, flew him, his family and his agent to Switzerland to hold talks, a gesture which won everyone over.
The midfielder eventually signed for the Gunners snubbing interest from United, who have had a fee agreed with the club for the player.
Ramsey is among the best players to come out of Wales in recent years and has realised his potential this season where he has scored 13 goals and has been an absolute asset for the club in the opening half of the season.
However, his progress has been hampered by a thigh injury which has kept him out for over three months, making it difficult for Arsenal who are going through an injury crisis.
In spite of that setback, Arsenal have offered him a new contract and Ramsey insists that the attitude of people around him makes him feel really wanted at the club, something which was pivotal in his decision to stick with Arsenal.
"I had a few tough decisions at that time.. I was travelling to a few different clubs at the time," Ramsey told www.arsenal.com.
"When I knew Cardiff were going to sell me, the manager [Arsène Wenger] was doing the Euros at the time so he flew me and my family out and my agent to Switzerland to meet him in person and to have a conversation.
"We had a meal as well together so it was just to show how much he wanted me and what he believed he could help me turn into. That really won it for me and I feel like I've made the right decision in coming here.
"Arsenal have brought through so many great young players and turned them into world-class players. He [Wenger] gives youngsters opportunities and if he feels that you're good enough he'll play you so those factors were massive for me. I just felt really wanted by this club," he concluded.