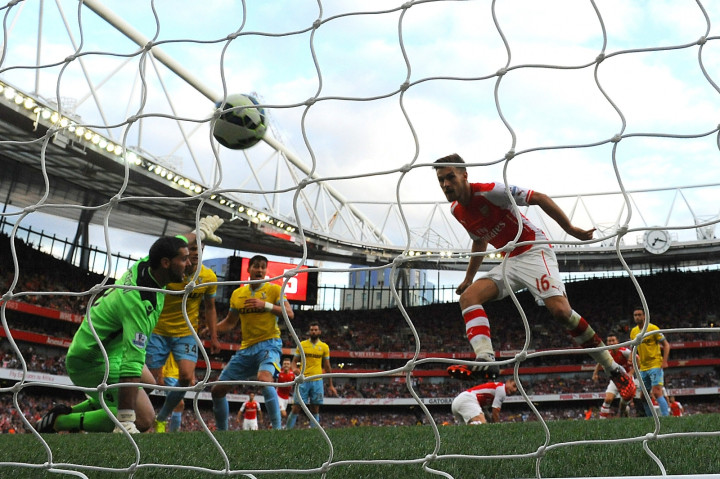 Aaron Ramsey's instinctive finish against Crystal Palace which clinched Arsenal a late opening weekend win in the Premier League evoked memories of Frank Lampard's impeccable timing, according to former Gunners boss George Graham.
Ramsey arrived on cue to convert on the rebound after Julian Speroni had saved from Mathieu Debuchy, to seal the points for Arsene Wenger's side after being frustrated by the travelling Eagles for long periods of the encounter.
The Wales international scored 15 times amid an injury-hit campaign for Arsenal last season as he became a key member of Wenger's squad and after opening his account with a crucial goal against Palace, Graham admits the finish reminded him of Lampard.
"Ramsey is the one midfield player who wants to get beyond the rest of his team-mates and into the box similar to the way Frank Lampard played for years at Chelsea," he told talkSPORT.
"He's developed tremendously as a player and he should be the one who should be in the starting 11 every week, without fail."
Lampard is the highest-scoring midfielder in Premier League history with 171 goals, and though he left Chelsea in the summer he will have the opportunity to add to that tally on loan at Manchester City this term.
The 23-year-old Ramsey has more competition for places this season in the Arsenal midfield with the signing of Alexis Sanchez, but Graham believes the club was still short of a defensive player in the middle of the park.
"The more I look at it I think they need another centre-half, Arsenal need a more commanding defensive midfield player and I think they need an out-and-out goalscorer up front," he added.
"Whether it is international class, that is going to be very difficult to get but there are a few players out there who are out-and-out finishers and that's probably what they need.
"I would definitely be looking at another centre-forward and definitely a midfield player – a Vieira type but whether a player of that quality is available I'm not sure."