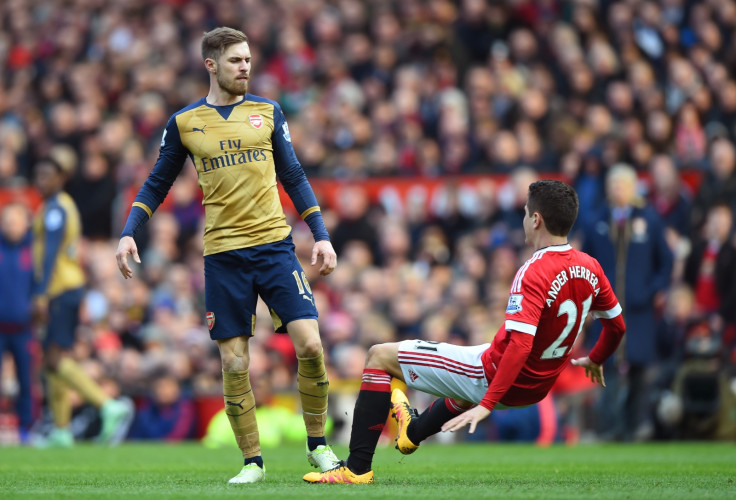 Aaron Ramsey says Arsene Wenger's reputation of nurturing young players convinced him to join Arsenal over Manchester United in 2008. Cardiff City accepted offers from three Premier League clubs, including Everton, back when Ramsey was aged just 17 but he chose a move to The Emirates Stadium.
Ramsey moved to the Gunners for £5m, according to BBC Sport, and has since gone on to make over 200 appearances for the club and claim three major honours including back-to-back FA Cups. The Wales international also represented his country at the 2016 European Championships, and was named in Uefa's team of the tournament after Chris Coleman's side reached the semi-finals.
On the eve of Arsenal's trip to Old Trafford to face United, Ramsey has addressed the reason why he chose north London over the north west, a decision he made over eight years ago. He admits Wenger showed a greater enthusiasm to bring him to English football's top flight, and promised him immediate first team football.
"I just felt more wanted by Arsenal," he told Sky Sports. "And the boss' plans for me seemed more appealing. He went through all of that to try and get me to sign for this club. As a 17-year-old, flying on a private jet over to his hotel, having lunch with him it was quite surreal.
"What he has done for so many players, so many younger players and turned them into great players I think that was what exciting for me and being a part of that; I wanted to be part of the first team and train with them and show that I was capable, even though I was only 16, 17, of playing at that level at my age. I was given an opportunity at quite a young age quite early on. This was the path I wanted to choose and I am very grateful and thankful for the opportunity that he has given me."
The revelation comes amid speculation that Real Madrid are ready to launch a £25m bid to sign Ramsey from Arsenal. The Sun understand the Bernabeu club want to unite Ramsey with fellow-Welshman Gareth Bale, despite the player having over two years remaining on his current contract.
Sir Alex Ferguson later outlined the tactics which United used to attempt to sign Ramsey ahead of Arsenal, which included deploying Ryan Giggs to pursue the midfielder. Then Cardiff boss Dave Jones had informed the club they were the frontrunners to sign Ramsey but a late intervention from Wenger proved decisive.
"The players would also work hard to try to help me sign prospects with whom they had some tie," the ex-United boss wrote in his book Leading. "Ryan Giggs was relentless in his quest to try and land his fellow Welshman, Aaron Ramsey, from Cardiff City. We flew Aaron up to Manchester, but it didn't work. I had got word from Dave Jones, the Cardiff manager, that Aaron had originally wanted to play for us, but Arsene Wenger had somehow managed to turn his head and convince him that his future was at the Emirates."