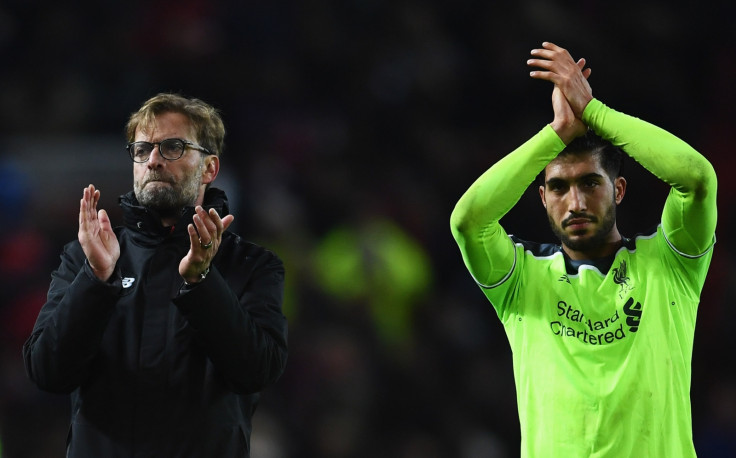 Jurgen Klopp claims there are no problems regarding contract talks with Liverpool midfielder Emre Can and insists that the oft-maligned German international is happy at Anfield.
Can's current deal is due to expire in June 2018 and the Liverpool Echo reported last week that negotiations regarding an extension broke down before Christmas with the player's camp said to be seeking a significant pay rise that would see his weekly wage almost double to £100,000-per-week ($123,874).
The 23-year-old, who has been battling an ongoing calf injury for approximately 12 months, later insisted publicly that "a few good meetings" had progressed well and asserted that "it isn't about money".
"We will speak in the next few weeks and months and see what happens," he told The Guardian. "I want to play injury-free. The meetings are with my agent but I am very happy at Liverpool. In the future I can play for many years at Liverpool."
Asked about Can's future during a press conference held before Sunday's (19 March) Premier League trip to Manchester City, Klopp said: "It actually makes no sense to talk about it, but because I obviously heard there was a story out there... yes, we are in talks, what can I say? They are good, because Emre likes to be here. We really like him as a person and as a player. So there are talks, there is nothing else to say.
"And until the final year starts – there are a few months still – no problems, absolutely no problems. Completely good talks [have been] held with a lot of other players, and if there is something to say about [it] we will be the first."
Coutinho struggles
Klopp also defended the recent performances provided by key playmaker Philippe Coutinho, insisting that his ongoing search for consistency was a natural by-product of an ankle ligament injury suffered in November that kept him sidelined for more than six weeks.
"The influence of him on the game is really big," he said. "If he is not at 100%, you miss something, that's how it is. But two weeks ago we played Arsenal and he did really well. Yes, Burnley again was not the best game, but he misses in this moment – which is pretty normal after a long injury – this kind of consistency.
"But the training week so far was perfect, he presented himself really [well]; it was fluent, confident and looked really well. There are always steps in this direction. Sometimes it works. It's about, in this moment, consistency. But he is in a really good way."
Commenting on 17-year-old Ben Woodburn's controversial first call-up to Chris Coleman's senior Wales squad for a 2018 World Cup qualifier against the Republic of Ireland, the manager added: "Obviously Ben is happy about it, so I am happy about it so that is the first thing. Do I think it should be now? I would say probably not. But is it a problem? No. Ben is a wonderful kid and he can deal with it 100%. He understands it all and knows really what he still has to learn and I can understand."