Nico Rosberg has won the 2016 Formula One title despite coming second to his teammate Lewis Hamilton in the Abu Dhabi Grand Prix. The Briton was ahead of his teammate by under a second but it was too little too late for the Mercedes man, who bowed out to Rosberg for the 2016 Championship by a matter of five points. Sebastian Vettel finished third in the race, thereby finishing the season in fourth spot, pipping Red Bull's Max Verstappen by eight points, who finished in fourth spot.
Red Bull's Daniel Ricciardo finished fifth but ended the season in third in the championship, making a promising finish ahead of next season. Kimi Raikonnen of Ferrari finished the race in sixth spot, followed by the Force India duo of Nico Hulkenberg and Sergio Perez, ending what has been a brilliant campaign for both of them. Felipe Massa and Fernando Alonso of Williams completed the top 10 in the final race of the season.
It was a frustrating race for the Mercedes faithful, who saw Hamilton slow down all throughout the race, perilously at times, which backed Rosberg into the chasing pack. However, the German had the last laugh, despite failing to win in any of the last four races.
There was a lot of action from the beginning as Verstappen crashed into the back of Hulkenberg's Force India who spun into the open field. Hamilton and Rosberg made full use of Verstappen's mistake and cruised into the lead but there was a host of pit stops and stoppages around leading to the incident which threatened to slow down Rosberg's road to the title.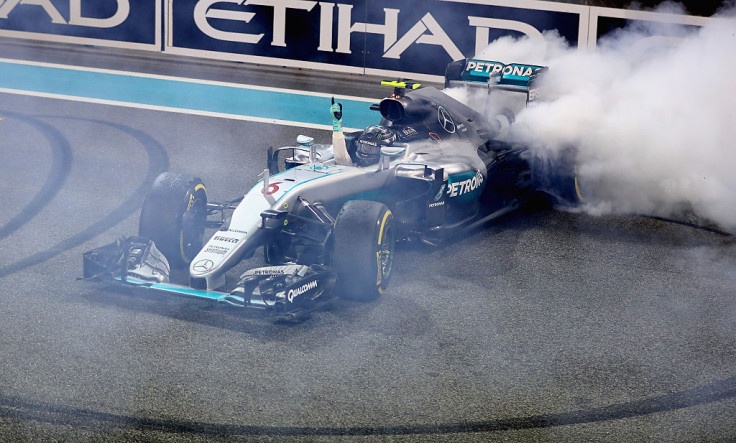 The host of stoppages slowed down the entire race and Rosberg found himself sandwiched between Ricciardo and the other racers behind him, with Red Bull resorting to a one-stop strategy. It was slow moving after the first round of pit stops, with Rosberg struggling to get into his stride in the race. However, his experience shone through as he overtook the teenager and kept himself within touching distance of Hamilton and was well on his course to claim the championship.
The final 10 laps were all hands on deck as Vettel charged into the front runners at full speed, trying his best to crash the party, while Hamilton was trying to keep the race slow and make it hard for Rosberg to keep his place in second. But he kept his cool and finished the race, not allowing Hamilton to breach the gap he held at the top.
The final results of the Abu Dhabi Grand Prix are as follows:-
1. Lewis Hamilton GBR Mercedes-Mercedes 1hr 38m 04.013s 55 laps
2. Nico Rosberg GER Mercedes-Mercedes +0.439s
3. Sebastian Vettel GER Ferrari-Ferrari +0.843
4. Max Verstappen NED Red Bull-TAG Heuer +1.685s
5. Daniel Ricciardo AUS Red Bull-TAG Heuer+5.315s
6. Kimi Raikkonen FIN Ferrari-Ferrari +18.816s
7. Nico Hulkenberg GER Force India-Mercedes +50.114s
8. Sergio Perez MEX Force India-Mercedes +58.776s
9. Felipe Massa BRA Williams-Mercedes +59.436s
10. Fernando Alonso ESP McLaren-Honda +59.896s