The reigning champions of Italy and Spain (and Europe, too) played out a hugely entertaining but ultimately goalless draw, in their Champions League quarter-final (first leg) at the San Siro on Wednesday night.
AC Milan were hosting a Leo Messi-led Barcelona for the second time in this season's competition, after the two sides were placed in the same group during the tournament's initial stages. The two group games finished ever so slightly in favour of the Catalans - they drew 2-2 at the Nou Camp and won 3-2 at the San Siro.
However, neither Pep Guardiola nor Massimiliano Allegri would have been fooled into thinking that those games and those results would, in any way, influence the outcome of this quarter-final. In fact, in the build-up to the first leg, despite Arsenal boss Arsene Wenger's disparaging comments about Milan's chances, Guardiola was quick to pay homage to the Italians (whose total haul of Champions League crowns stands second only to Barcelona's domestic rivals, Real Madrid).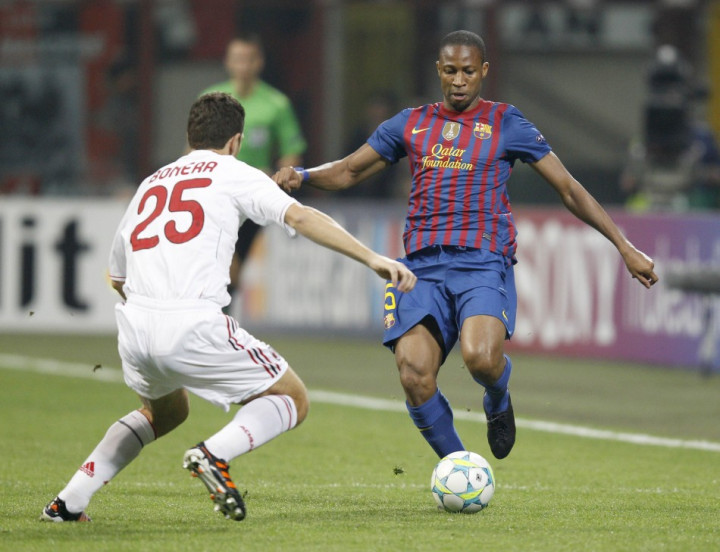 Milan have been in excellent, if not imperious, form in the Serie A. The defending champions sit four points clear of bitter rivals Juventus, at the top of the league and went into Wednesday's game on the back of a morale-boosting 2-1 comeback win against AS Roma, in a league game. The club's talismanic striker, Swede Zlatan Ibrahimovic scored both goals and he was definitely the dangerman for Barcelona.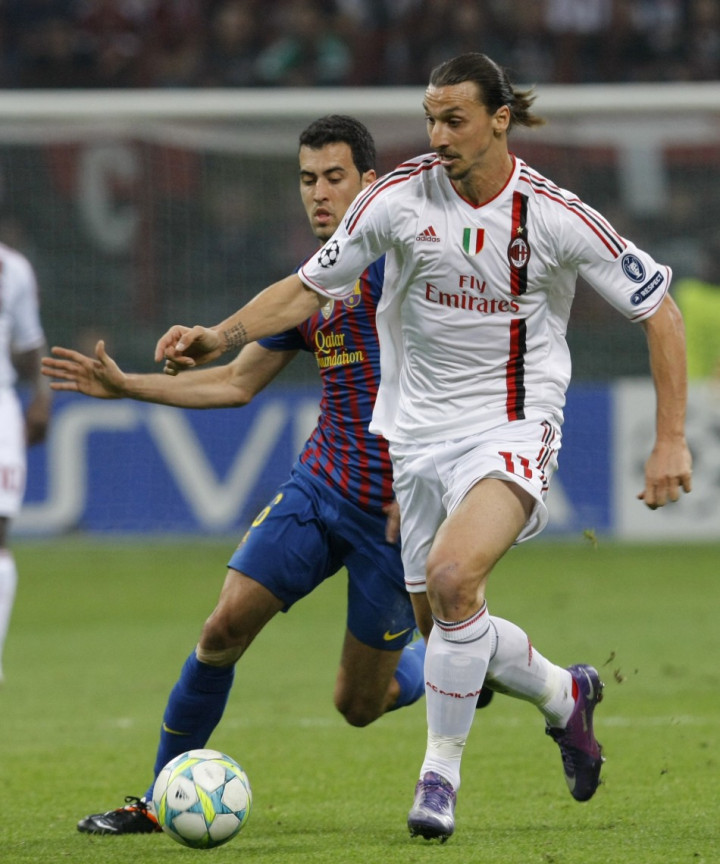 The Italians were also looking to Brazilian forward Robinho to play his part in unlocking the Barcelona defence. Unfortunately, Robinho's compatriot, Alexandre Pato was missing through injury, as were defenders Thiago Silva (a crucial loss) and Iganzio Abate. Also missing for the hosts were Antonio Cassano, Alexander Merkel, Gennaro Gattuso and Pippo Inzaghi.
Milan lined up with Ibrahimovic and Robinho up front and Antonio Nocerino, Clarence Seedorf, Massimo Ambrosini and Kevin-Prince Boateng in midfield. Philippe Mexes, in for the injured Thiago Silva, partnered veteran Alessandro Nesta in the centre of defence, with Daniele Bonera and Luca Antonini manning the flanks.
Barcelona, meanwhile, would have been grateful to have a near full-strength squad at their disposal. Influential captain Carlos Puyol started the game, albeit at left back, while defensive midfielder Javier Mascherano continued to deputise in the centre back slot. The Spanish club had no surprises otherwise - Messi and Chilean forward Alexis Sanchez led their lines, backed by Xavi and Andres Iniesta. Sergio Busquets and Seydou Keita both started, to provide additional midfield cover for a relatively fragile backline of Puyol, Dani Alves, Gerard Pique and Mascherano.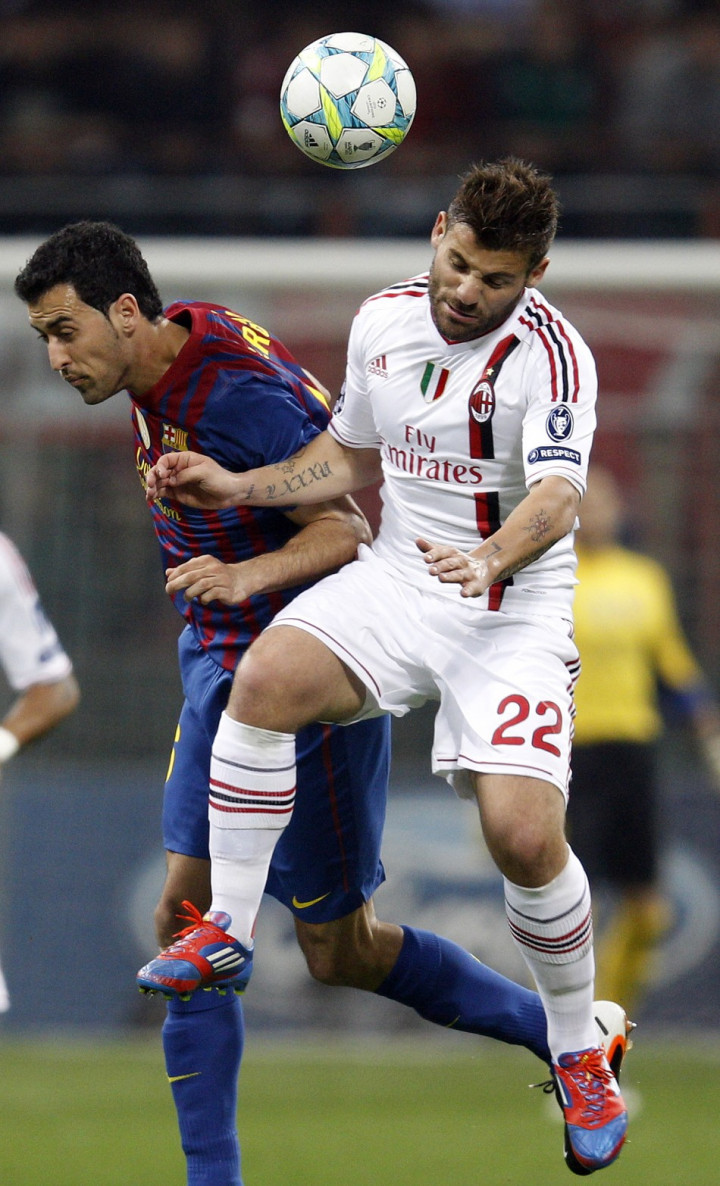 The match started with an absolute bang!
Robinho had a golden chance, merely minutes after kick-off, to really put the visitors under pressure. The Brazilian fired wide from six yards out, after Boateng's blocked shot fell kindly. The Italians were given a swift reminder of whom they were playing, when Messi slalomed into the box a few minutes later. Nesta then fouled the Argentine on the edge of the box but the free kick was a tame one and Milan could clear.
Messi was already proving to be an absolute handful... and by the time the first 15 minutes were over with, there was a clear pattern emerging. Barcelona had the ball... had the possession... Milan were content to stand-off and attack on the break.
The hosts did have a scary moment around the 20th minute, though, when Abbiati's diving save made contact with Alexis Sanchez. The Chilean promptly went down claiming a penalty but referee Jonas Eriksson, after consultation with his assistants, chose not to award the kick. The second scary moment followed soon after!
Dani Alves burst down the right flank and pulled it back for Messi, who suddenly appeared in acres of space... a simple tap-in and Barcelona were 1-0 up! At least... until the goal was flagged for offside!
Lionel Messi Goal Offside vs AC Milan by DailyGoalz
Straight after the disallowed goal, down at the other end, Ibrahimovic was played in behind the Barcelona back line but his shot was weak and Valdes was glad to scoop it up. Chances for Milan were proving to be few and far between... and one couldn't help but think they needed to press on and score a goal or two now... while playing at home... rather than try to take a 0-0 draw to the Nou Camp and win there.
Meanwhile, Alexis Sanchez was beginning to grow into the game and his speed and strength were bothering Milan. He was played through on goal in the 34th minute but a bit of showboating (Guardiola could not have been impressed!) meant the chance was squandered.
The only other worthwhile action in an exciting but ultimately goalless first half were a couple of weak shots from Seedorf.
The second half began at a slightly more composed pace. Indeed, apart from an Iniesta shot on goal (which Abbiati saved smartly), the highlight of the opening 10-15 minutes was an injury to Robinho. The Brazilian, who was already carrying an injury going into the game, got into a tangle with Mascherano and was substituted for youngster Stephan El Shaarawy.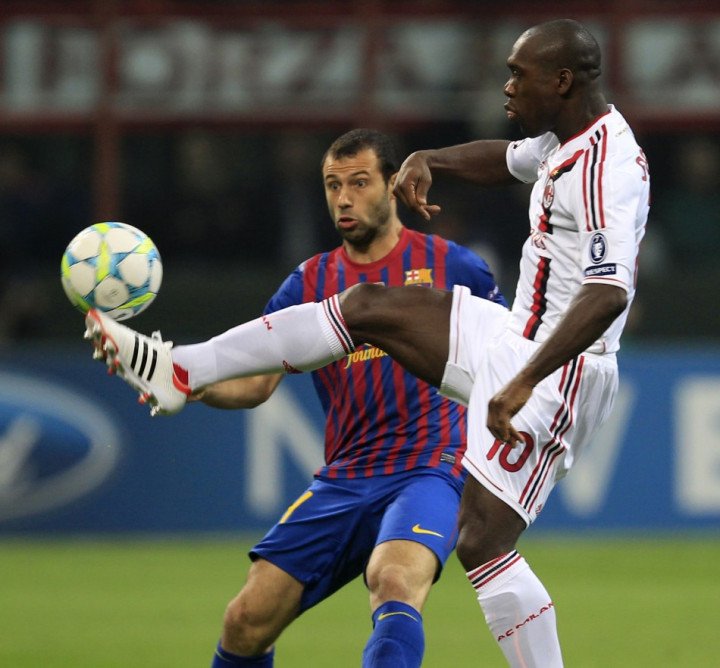 Barcelona continued to enjoy the lion's share of the possession but the break seemed to do the Milan defence some good. The Italians held firm, closing down when they could and relying on organisation to break up Barcelona attacks when they could not. They did give away a few cheap free kicks though and veteran Nesta even picked up a yellow card for a rather cynical foul on Messi.
The match was petering away into nothing at this stage and, in an attempt to freshen things up, Guardiola brought on youngster Cristian Tello for a relatively quiet Iniesta. Allegri reacted by bringing Urby Emanuelson on for Boateng.
The AC Milan substitute burst into life minutes after coming on - he was put through on goal but dragged his shot wide. Meanwhile, at the other end, Messi tried doing it all on his own, only to be denied by good defensive work.
As the match wound down, more bad news was forced on Milan, with an injury to Nesta forcing the defender off. In his place came Djamel Mesbah... who played in the second leg of the quarter-final against Arsenal... and did not have, to put it kindly, the best of games then.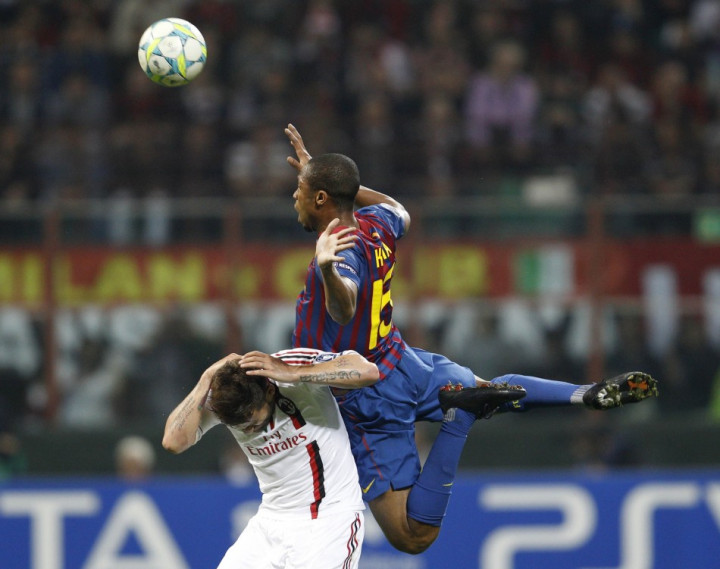 Guardiola made his second change of the night with a little over 10 minutes to go, bringing Pedro on in place of the impressive but inconsistent Alexis Sanchez. Meanwhile, the earlier substitute, Tello, looked in good touch, feeding Messi on a couple of occasions. Unfortunately for the Catalans, Ambrosini put in a good block and they had to be content with a corner.
Milan, surprisingly, still seemed happy enough to sit deep and play on the counter... but it just seemed such a dangerous game to play! They were almost made to pay for that... in the 87th minute, when Messi forced a world-class save out of Abbiati! And, just to make the moment more exciting, Antonini threw himself at Tello's follow-up, to deflect it to safety.
That was pretty much the last event of note in what turned out to be an anti-climactic end to a thrilling first half.
So... a goalless evening at the San Siro... and all to play for at the Nou Camp in a week's time. Incidentally, this is the first time Barcelona have failed to score in a Champions League game in more than two years! The last time European opposition managed to shut out the Catalans was back in the 2009/10 campaign, when Rubin Kazan held them to a draw in Russia.
Milan set out tonight with a game plan... and they stuck to it. Credit to the Italians for shutting Barcelona out. However, Allegri will know that this is only half-time in the tie and the more difficult task - that of going to Spain and scoring, at least, as many as Barcelona can at home, will be a gigantic one.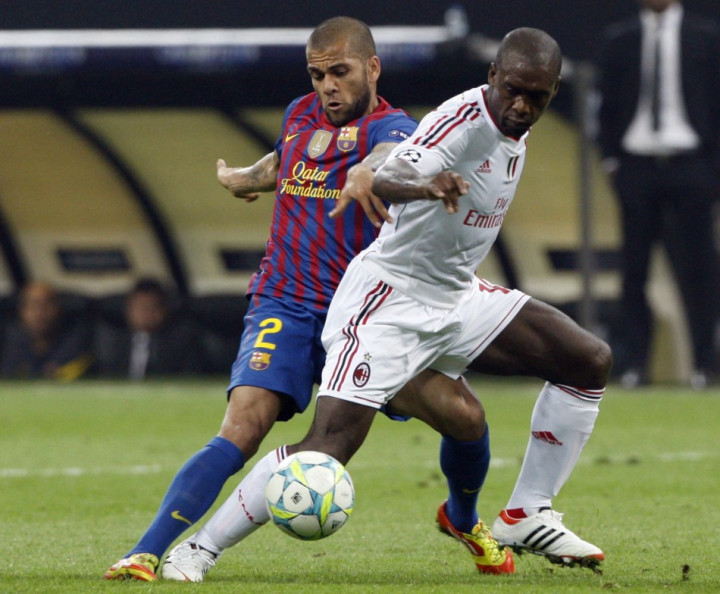 Can Milan repeat these heroics and keep Messi and co. quiet for a second time, while also sneaking a goal from somewhere? Or will Barcelona, emboldened by home support and the knowledge that their visitors next week will have to take a few risks, carve open Milan often enough to put at least a couple of chances away?
Answers to be revealed on 3 April!
Final Score:
AC Milan 0 - Barcelona 0
Must Read: Arsenal Transfer News: French Club in Hunt for Gunners' Forward - Report