Key Features:
11.6in LCD touchscreen, 1366 x 768 (135ppi)
Intel Core i5; 4GB RAM; 120GB flash storage
Included keyboard dock/carry case
Acer Aspire P3 Review
The Acer Aspire P3 is an 11.6in tablet running Windows 8 on an Intel Core i3 or i5 processor. A squared-off aluminium chassis gives the tablet an industrial yet premium feel, while the included keyboard dock aims to bridge the gap between tablet and Ultrabook as Acer continues to challenge exactly what a Windows 8 portable should be.
Acer Aspire P3: Design, Feel and Usability
To use a terrible cliche, the Acer P3 is a game of two halves. At first you see the premium aluminium tablet and are immediately reminded of the equally premium HTC One smartphone; the squared-off edges, metallic feel and simplicity of the design are all excellent - and at 9mm thick, it's slightly thinner than the Microsoft Surface RT.
But there are problems, and chief among which is the included keyboard dock, which struggles to match the tablet's quality. Although similar to look at, the dock is actually plastic - and flimsy plastic at that. It bends and buckles far too easily, and the keys don't have much travel so typing soon becomes uncomfortable.
The tablet snaps into place easily enough however, and feels surprisingly secure despite the dock's thin plastic construction - added to this, the leather-esque cover makes the device very comfortable to hold when folded up. I can imagine this being carried around by a student along with a stack of textbooks.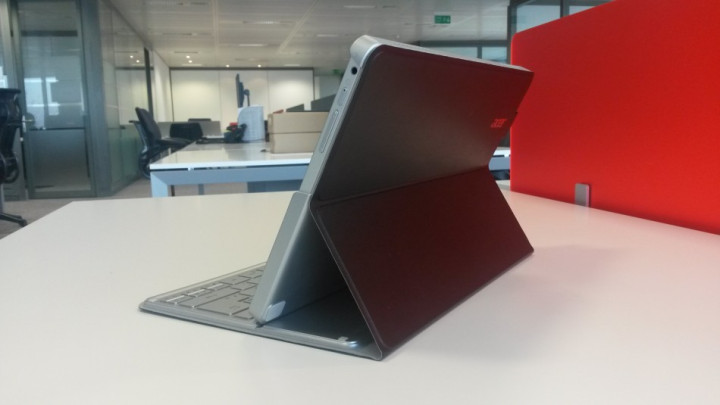 Unfortunately what Acer gives with one hand, it takes away with the other; it's very difficult to remove the tablet from its dock once slotted into place. Working your fingers around the edge to prise tablet from dock is fiddly and I was worried about damaging something each and every time.
As with all tablets and keyboard docks, the device feels top heavy when propped up precariously on your lap, but on a desk the P3 is held at a good angle to work with comfortably - better, to my eyes at least, than the Surface, which I've always felt sits too upright.
Finally, the dock is powered by its own rechargeable battery as there's no electrical connection between it and the tablet - and if the battery runs dry you have to use the included USB charger to replenish it, taking up the tablet's one-and-only USB port.
Acer Aspire P3: Display
At 1366 x 768 the P3's screen resolution is typical of most 11in laptops, in that it isn't full HD and produces a pixel density of 135 pixels per inch (ppi). This is slightly lower than the iPad mini's 163ppi and lower too than the Microsoft Surface RT, but I urge potential buyers not to obsess over these numbers because the Acer's screen is very good indeed.
Colours are well balanced without popping out of the screen with cartoonish contrast, blacks are black and the backlight is evenly distributed. Having used the P3 for a few days the resolution and pixel density came as a surprise to me, as I'd not once wished for more.
A bonus with a slightly lower resolution is that Windows 8's traditional desktop mode can be used with your fingers. Tablets with full HD screens render some desktop icons and buttons so small that tapping the right one with a finger is frustratingly difficult - a real pain if you haven't got a mouse to hand.
In short, don't get tied up over resolution and pixel density, especially when the device doesn't have a trackpad, and instead realise that 720p HD is perfectly good enough for a tablet this size, and means you can use the desktop mode more easily.
Acer Aspire P3: Operating System, Performance and Battery Life
Running Windows 8 on an Intel Core i3 (or i5, as my review unit was) with 4GB of RAM means the operating system speeds along nicely with minimal fuss, and despite two large vents suggesting heat and fan noise could be problematic neither turned out to be all that noticeable.
As with all Windows 8 devices, there is a learning curve and navigating the tiled interface takes some getting used to.
There's no Start button on the desktop, and much of the tiled interface is controlled by swiping in from the screen edge, but once you've spent an afternoon learning the swipes and gestures needed, Windows 8 is a joy to use.
There are drawbacks though, and one is the time applications initially take to open. If you're used to the instant feedback of an iPad or high-end Android tablet, you'll notice that Windows 8 apps take a good few seconds to become usable, but once alive and multitasking in the background, they reopen for a second time as soon as you tap them.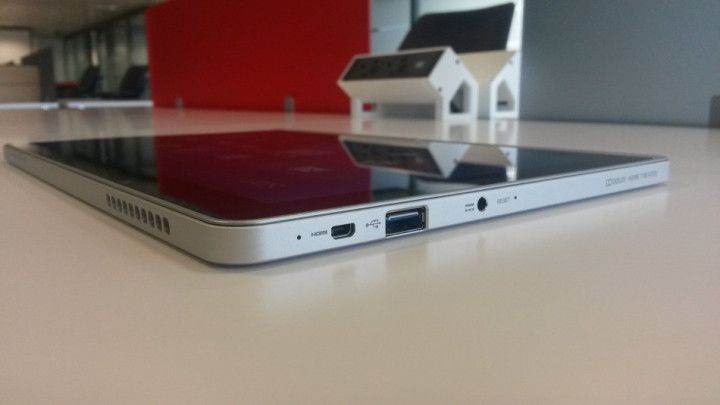 Performance on the desktop side of Windows 8 is just as snappy, with programs opening as quickly as they do on any modern laptop, and the rest of the experience is exactly that - this is a desktop environment for Office, iTunes and whatever else you'd use a computer for.
But when it came to connectivity, the P3 was a letdown. There's just one USB port on the tablet and none at all on the dock, so without packing a bulky adaptor to add more ports you're left to choose between mouse, phone or USB stick and never anything more; and that's before the keyboard battery dies and you need to plug that in too.
At least there's a micro HDMI port for connecting to a big screen or projector, but that, along with a headphone jack, is where the P3's connectivity options end. There's no SD card slot either, so you're stuck with the admittedly generous 120GB it comes with.
Finally, Acer claims up to six hours of battery life for the P3, but I found between four and five hours to be more realistic when performing a range of common tasks with Wi-Fi switched on. Not terrible for a laptop, but not brilliant either - especially not for a tablet, which should be returning battery life double that. An update to Intel's new Haswell processors would see a jump in battery life, but for the meantime the P3 can only be had with older Ivy Bridge chips.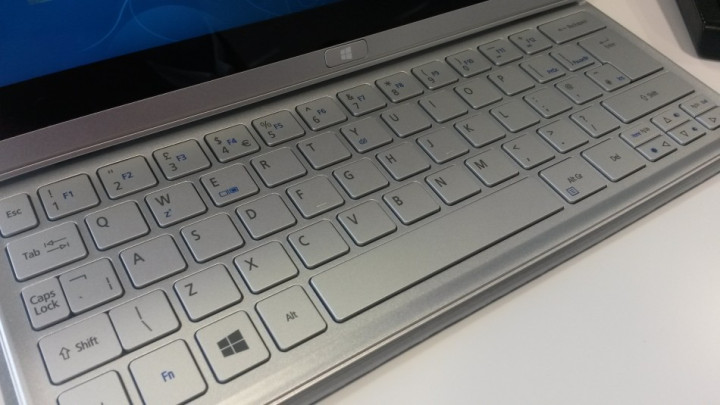 Acer Aspire P3: Verdict
The Aspire P3 left me frustrated. Not with Acer as such because as a tablet the device is brilliant; excellent hardware on par with the iPad and a screen that is much better than the spec sheet suggests. My frustration is better left at Microsoft's door because it seems manufacturers still don't know what to do with Windows 8. We have regular laptops and regular tablets, but scrapping it out in a fog of confusion in between we have hybrids like the P3 which seldom provide the all-in-one solution they claim to offer.
Here we have what Acer calls an Ultrabook, but in reality it's an excellent tablet mated to an average keyboard dock with a chronic lack of connectivity, fiddly design and cheap-feeling keys which quickly become uncomfortable.
At £550 it's good value compared with Ultrabooks and tablets alike, but any potential buyer should bear in mind that this isn't a machine for work, and would struggle to be a tablet and laptop replacement for all but the lightest users of both.
The perfect Windows 8 laptop/tablet hybrid is getting closer, but in this case the tablet is writing cheques its keyboard dock simply can't cash.
Scores:
Design: Tablet: 9/10, Dock: 7/10
Build Quality: Tablet: 9/10, Dock: 6/10
The Good:
Excellent, slim tablet with high build quality
Windows 8 is fast and easy to use once you master the touch gestures
Screen much better than its resolution lets on
The Bad:
Poor quality keyboard dock
Widescreen display means portrait use is impractical