Key Features:
Google Chrome operating system
1.1GHz Intel dual-core processor, 2GB RAM
320GB hard drive
11.6in 1366 x 768 display
802.11n Wi-Fi
Price as Reviewed: £200
The Acer C7, as with all Chromebooks, cannot simply be reviewed as a very cheap laptop, because the whole ethos behind the Chromebook name is that this is a device that depends almost entirely on the cloud and an always-on internet connection.
For that reason, this will be less of a traditional review and instead more of an experiment: Is it possible to use a Chromebook as your one-and-only computer?
But First
Before I get onto how it works, some details about the hardware I am dealing with.
The Acer C7 is a small laptop, with a 1366 x 768 resolution, 11.6in screen and an all-plastic body. It is powered by a dual-core Intel Celeron processor clocked at 1.1GHz and supported by just 2GB of RAM. Unlike some Chromebooks there is a sizeable 320GB hard disk drive, which is a welcome addition given that Samsung's equivalent Series 3 Chromebook gets just 16GB of internal storage, albeit on a faster solid state drive.
There are three USB 2.0 ports, along with full-size VGA, HDMI and Ethernet ports, and a standard headphone jack - it's a surprising range of connections for a small, £200 laptop and means the humble Acer gets more USB ports than a MacBook Air.
But it doesn't take long to work out why this laptop costs just £200. The plastic construction feels cheap and flexes quite easily, there are sharp edges, and a glance at the left side - with its Ethernet and VGA ports, huge vent and rough plastic edge - offers the user a trip down memory lane to what laptops of the late 90s looked like.
I can't be too mean about the C7 though, as the keyboard is quite good, with keys that are large enough and provide just enough travel. Acer has kept important keys - like backspace, enter and shift a decent size, while compromises have been made, making the arrow keys quite small.
My only complaint with the keyboard is that I occasionally caught the small page up and page down keys, which are nestled in closely with those equally small arrow keys, and this can get annoying while navigating around a text document.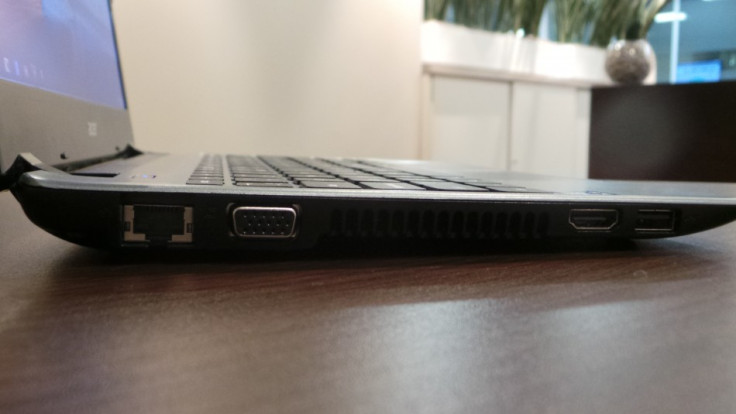 There's no doubt that Acer has had to save costs here to meet that low price, but at least it's made them in the right places. The screen, keyboard and trackpad are what you interact with most when using a laptop, so I was pleased to see (quite literally) that the Acer C7's screen is very good considering the price. It's bright, evenly lit and has the same resolution as the 11.6in MacBook Air, a laptop costing £850.
My only complaint about the screen is its glossy black border. Why-oh-why Acer thought it was a good idea to surround the screen with what is essentially a black mirror is beyond me. It's distracting, it wobbles about slightly when you type, and is just plain annoying.
Other reviewers have said the trackpad is poor and produces jumpy cursor movement, and initially this is true. But after a few days of using the C7 I found the trackpad to improve; I think it just needed wearing in, as it feels much smoother after a week of use.
To save space for the already-small trackpad, Acer has freed it of buttons, instead adopting an integrated click in the lower half, much like Apple does with its MacBooks; the click works well (or you can tap the surface) and a click or tap with two fingers (or Alt+click) performs a right click.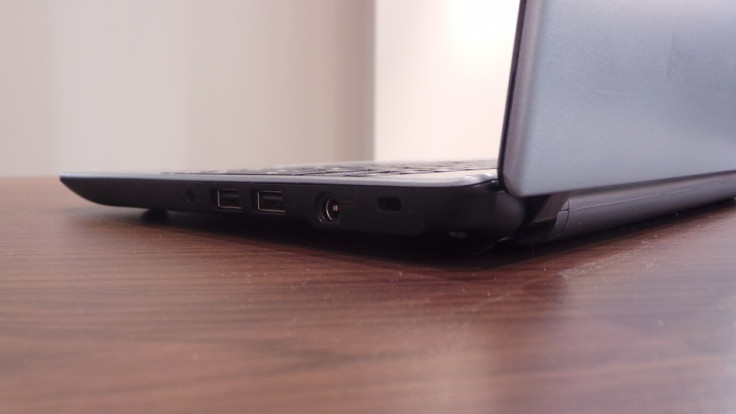 Living with a Chromebook
Now to the meat of why I've been using nothing but a Chromebook for the past week - to see if you actually can, and more importantly if you should.
For those who don't know, the Chrome operating system has been with us for a few years now and is actually little more than the Chrome browser, a desktop, file manager for local storage, and lots of shortcuts to Google's many entertainment and productivity services.
Because the laptop doesn't have to run much more than a browser, performance is very good, with the C7 booting up the moment you lift the lid. Connect to Wi-Fi or attach an Ethernet port, sign in with your Google details (or create a new account) and away you go.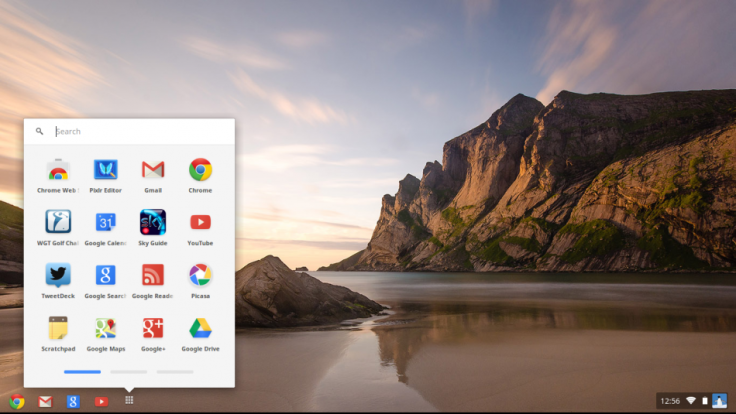 Chrome has a desktop much like any other computer you've ever used, and at the bottom there is a taskbar very similar to what you'd find in Windows, with shortcuts to opening the browser, Gmail, Google Search and YouTube on the left, along with a folder with shortcuts to all installed apps. On the right there's the time, icons for volume, battery and Wi-Fi connection, and a shortcut to the settings page.
I spend much of my day working in the browser, so making the switch from a fully-functioning desktop to the Chromebook went mostly without a hitch. With no email client installed I simply opened our IBTimes web mail client, and I do most of my work in Google Docs, so the majority of my workflow went unchanged.
Even sourcing images to embed into stories was the same as usual, as Chromebooks have a basic file management system to access content stored locally, and of course you can browse the files of attached USB drives.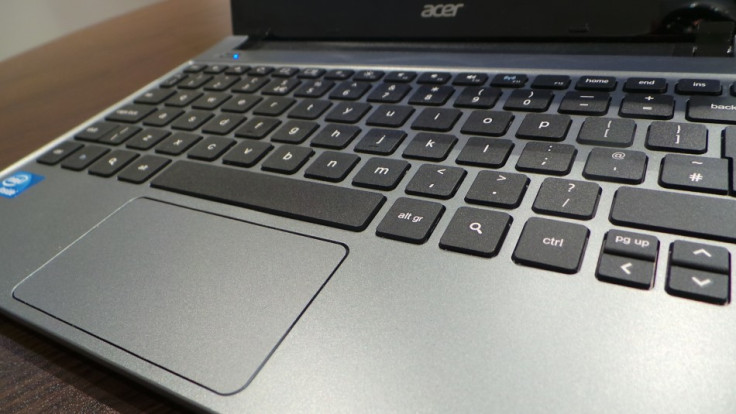 I found the Acer C7's battery life to be average at best, at just over 3.5 hours of constant use with the screen set to around 75 percent brightness, connected via Wi-Fi, and with about ten Chrome tabs open.
Multitasking
It takes a long time to get used to only having a web browser through which to do everything. Time and again I would minimise it, search for an application, then realise that launching it would only open up the same browser window again.
But after a few days I got used to living permanently in the browser, with tabs for the IBTimes content management system, email and Tweetdeck neatly lined up, just as shortcuts to applications would be in the dock or taskbar of a regular Mac or PC.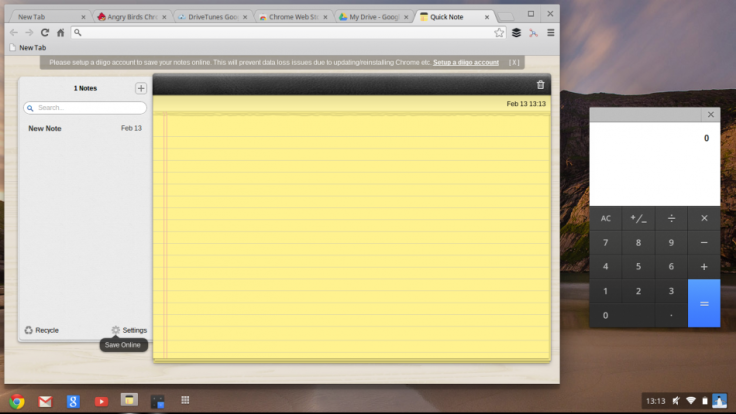 In theory, picking applications from tabs at the top of a browser is no different from clicking apps in a dock or taskbar below, but it still takes some time to accept that tabs can be used for more than just websites; once you get over this hurdle the Chromebook starts to make sense.
Productivity
Google Docs provides an excellent suite of applications for word processing, creating spreadsheets and presentations, and documents can be edited offline, so you can carry on working on the train (and save it) without the need for an internet connection.
Documents created in Google Docs can be saved as Microsoft-friendly files - so anything written can be saved as a .doc file, for example - and when online, everything is automatically saved as you work, so you'll never lose anything again.
Files are even saved in various states, so if you make some major changes to a presentation but later decide the first version was better, you can dig that one out and discard the alterations.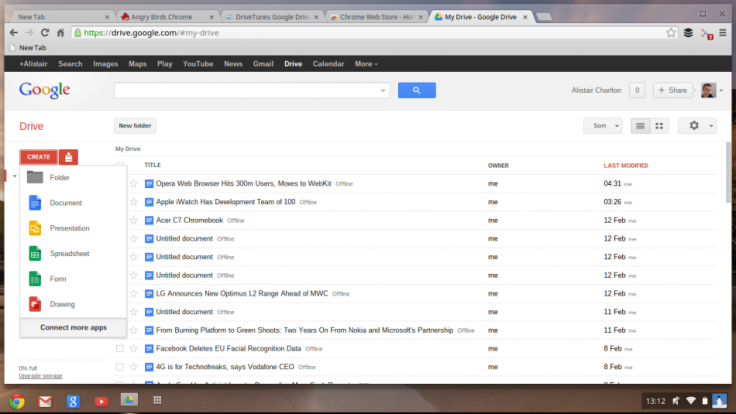 It almost goes without saying that, beyond writing, spreadsheets and email, this isn't a machine intended for creative multimedia work, but then the screen size and specification should have made that obvious from the off.
Documents can be organised into folders either on the Chromebook itself or in Google Drive's cloud storage, just like they would be on the desktop of a conventional computer.
Entertainment
By default, your Chrome device uses the built-in media player to play audio and video files. To play a file, simply double-click an audio or video file in your Files app. If however all you music and video is stored in iTunes, oyu 'll need to do a bit of work to get access.
There's no version of iTunes for Chrome OS, but don't worry, because a Chrome extension called DriveTunes adds media controls to your Google Drive storage. Install the extension, upload music to a folder and use the play/pause and skip forward/back controls provided by DriveTunes.
Alternatively, and if you have access to a Mac or PC, you can download the Google Music Manager from google.com/music to that computer. This app then guides you through the process of uploading iTunes music to your Google Drive, ready to be played on your Chromebook.
Gaming
A quick search of the Chrome Web Store reveals a wide range of games, some you will never have heard of, but others you will have, including Need for Speed, Angry Birds and Cut The Rope. There's a huge selection here, but don't be fooled, once installed most are little more than links to websites of Flash games.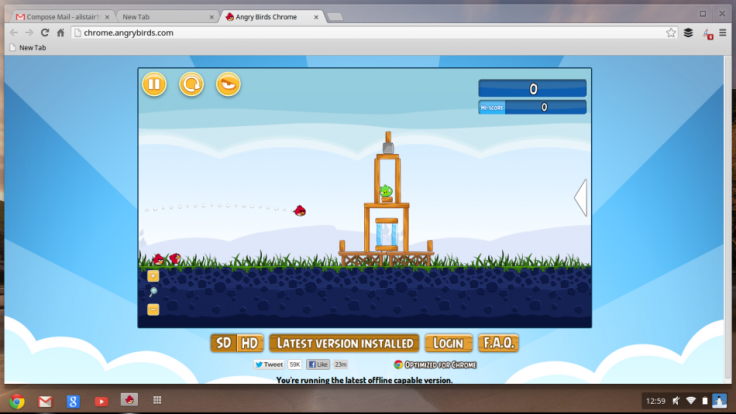 You won't find Crysis or Call of Duty here, but there's a wide selection of games mostly designed to entertain you for ten minutes during your lunch break, and that's fine because no one would expect a £200 laptop to offer much more.
Some games let you install them to the hard drive for offline use, so you can play Angry Birds on the train, but most require an internet connection.
Performance
Given the Acer C7's humble 1.1GHz dual-core processor and 2GB of RAM you could be mistaken for thinking the machine is going to be underpowered, but because the operating system isn't much more than a web browser, I found it to be perfectly usable.
Even with a dozen tabs open all day long the Acer never skipped a beat, and although it produces a noticeable amount of heat from a large vent on the left edge, the fans remained quieter than the work desktop computers surrounding it and the whole OS remained stable.
On one occasion however, about a week since the last reboot and with a dozen Chrome tabs open, the Acer completely froze, forcing me to hold down the power button to kill it and reboot.
If I was working on a regular laptop and, as I was, just finishing a 1,500 word feature, such a reboot would have lost me my work and the laptop the chance of a happy life, but because everything is in the cloud I rebooted, allowed Chrome to launch all the tabs I had open and not a single word was lost, thanks to Drive backing up automatically as I write.
I have no idea why it crashed, which is still a concern, but at least you can be safe in the knowledge that you're never going to lose your work if something does go wrong.
Conclusion
After living with a Chromebook for a week and using it almost exclusively (alongside an iPad for media consumption and reading), I learnt that you can comfortably live with it as your only computer.
Yes, an £850 MacBook Air would be a nicer option, but much of that cost is tied up in the aesthetics. A Chromebook like the Acer C7 may not be attractive - turned off, it could pass for something a decade old - but the screen is good and has the same resolution as the MacBook, the keyboard is nice to type on, and the trackpad is decent although I admit I miss the extra multitouch gestures of the Air.
For anyone who wants a small and portable laptop that has a good range of connections, impressive screen and comfortable typing experience, with which they want to browse the web, type, and use social media, then a Chromebook should be a serious consideration.
Scores:
Overall: 8/10
Design: 6/10
Performance: 8/10
Screen Quality: 8/10
Value: 9/10
Battery Life: 7/10
The Good:
Surprisingly good screen
Loads of ports
Chrome OS does more than you realise
The Bad:
Feels very cheap (because it is)
Battery life is average
Trackpad could be better