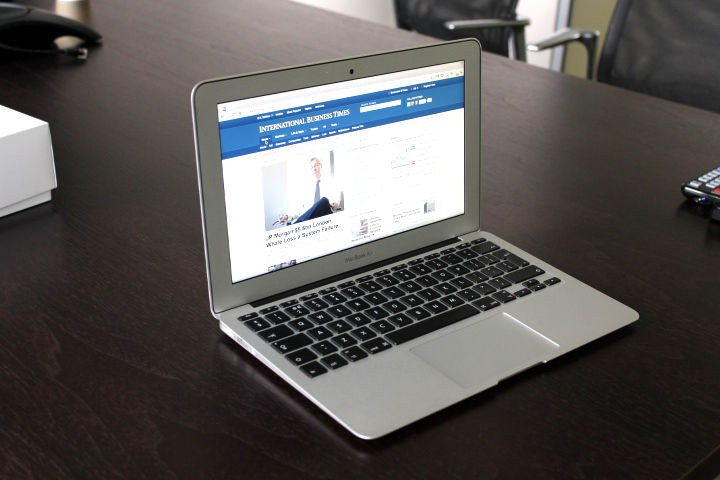 Key Features:
11in LED-backlit display, 1366 x 768
1.7GHz Intel Core i5 (Ivy Bridge); 4GB RAM
128GB SSD
Backlit keyboard
2 x USB 3.0; 1 x ThunderBolt port
Price as reviewed: £929
Introduction
Apple's MacBook Air has become much more than a laptop. It is an iconic piece of design and it is as much status symbol as anything else.
The number of people sitting in coffee shops using Airs seems to have mushroomed quickly in the last two years. It is as if people only want to use Apple's portable laptops when they know someone else is watching and admiring.
Of course we exaggerate, but the key point here is that Apple has made a laptop one of the most desirable and sought-after electronic products on the market and has inspired makers of Windows laptops to up their game and produce similarly beautiful, slim and light Ultrabooks.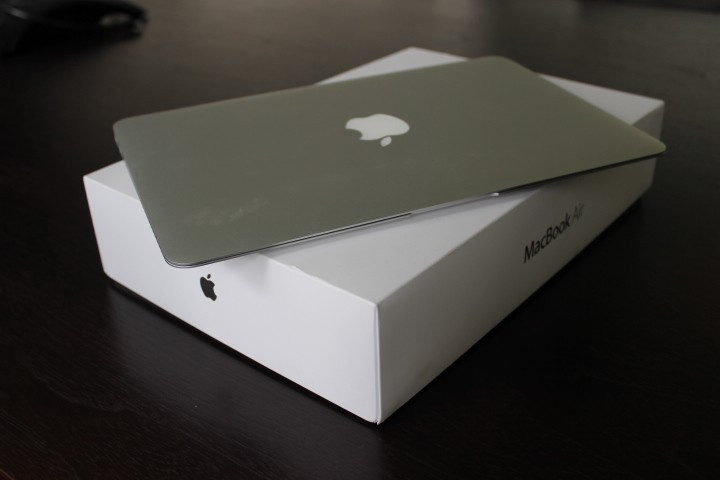 However, try as they might, Samsung, HP, Dell and Acer have all fallen short thus far and despite Apple's iconic design being two years old, no one has matched it as yet and Apple has therefore seen no point in changing a winning formula.
The 2012 11in Macbook Air looks for all extents and purposes looks like the 2011 version of the 11in MacBook Air and the 2010 version of the 11in MacBook Air. Apple has tweaked its smallest laptop very subtly, but does it remain the best ultraportable laptop out there? Let's find out.
MacBook Air: Design and Connectivity
As we said, the MacBook Air has set the bar high in terms of design. It is milled from a single piece of aluminium which not only means it's slim and light, it also means it is a lot sturdier than some of the other Ultrabooks on the market.
The MacBook Air dimensions have not changed since 2010 measuring 300 x 192mm with a thickness going from 17mm at its 'chunkiest' point tapering to just 3mm at the front. This wedge design means is is easy to carry and fits well in most backpacks or laptops cases and at 1.08kg it won't weigh you down.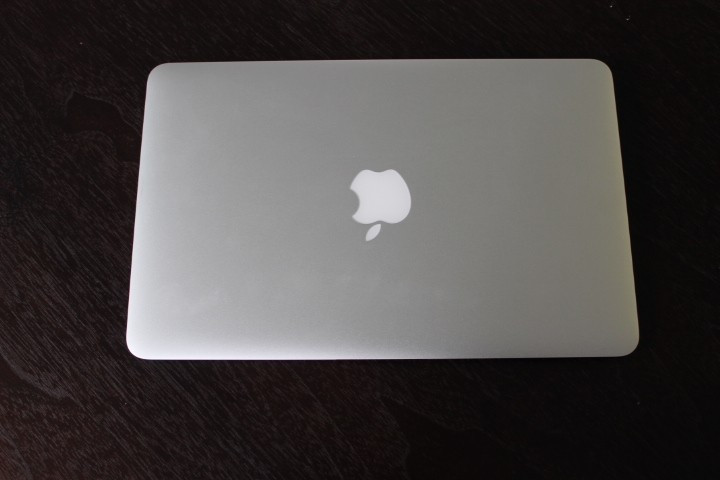 Very few blemishes break the sleek lines of the aluminium case. The iconic Apple logo on the cover, four rubber feet on the bottom and some small text are all that break up the silver casing of the MacBook Air.
The black hinge at the rear is solid, but just flexible enough for us to be able to open the laptop with a single finger - an important test for any Ultrabook. The hinge also hides the air vents, which means you'll never feel you lap getting too hot even with extended use.
In terms of connectivity, the Air is both good and bad. On the plus side, it has upgraded the USB ports to version 3.0. Apple previously relied on Intel's ThunderBolt port for its high-speed connectivity, while the rest of the world moved onto USB 3.0.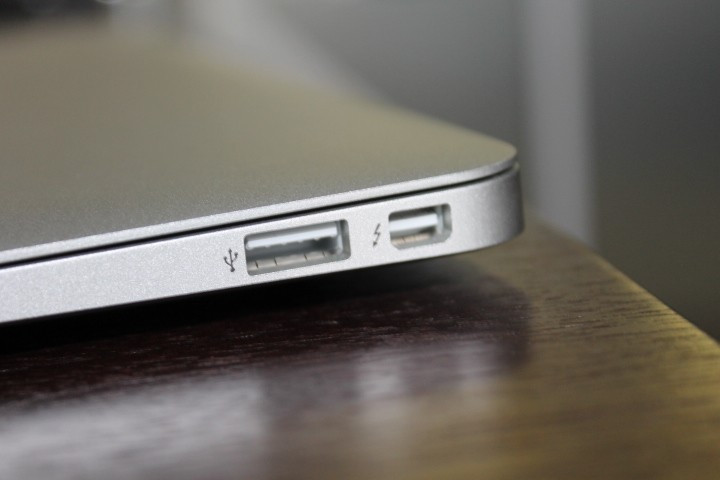 While Apple has relented and added USB 3.0, it has also kept the ThunderBolt port. The adoption of Thunderbolt on accessories like external hard drives has been slow to say the least, and if you do want to make use of the huge data transfer speeds available (up to 100Gbps) then you'll have to buy a range of adaptors which will let you hook up the MacBook Air to a monitor etc.
On the left-hand side you'll find a USB port alongside the headphone jack, microphone and the new slimmer MagSafe power port. On the right-hand side you'll find the ThunderBolt Port and second USB 3.0 port and that's it. The 13in MacBook also features an SD card slot which is something we do miss on this smaller laptop.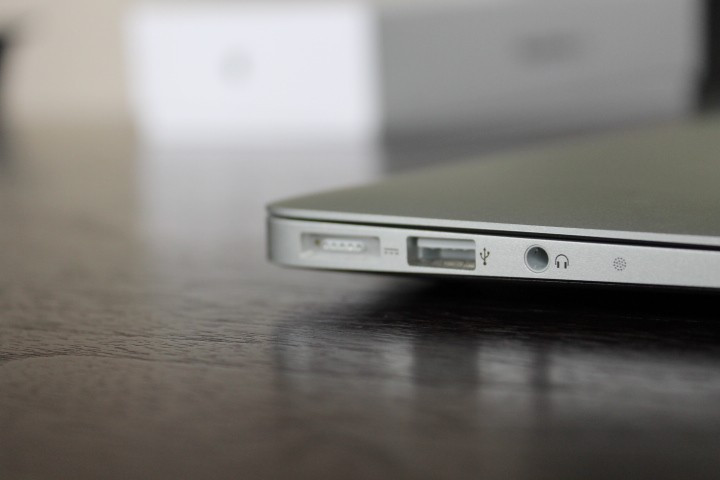 In terms of wireless connectivity you'll find the usual partnership of Wi-Fi N and Bluetooth 4.0.
MacBook Air: Keyboard and TouchPad
Opening the laptop, the expanse of aluminium continues. While it's nothing too exciting, it is certainly looks classy and feels cool to the touch.
Apple took the odd decision back in 2010 to remove the backlighting from its laptops keyboards, which was a strange move. Thankfully they brought it back last year and it remains in place here, making typing in the dark a doddle. The backlighting is controlled by an almost imperseptible sensor next to the webcam.
The keyboard itself is well spaced, despite the diminutive size of the laptop, and all the keys (with the exception of the Return and arrow keys) are nice and big.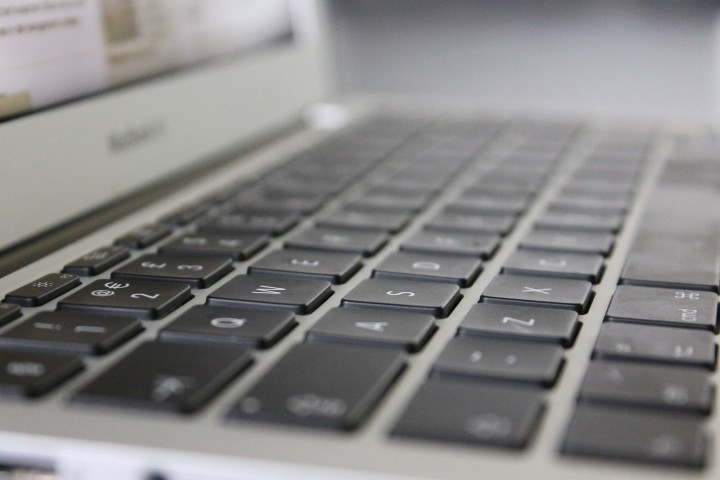 The action of the keys is a little too shallow for our liking, but they feel nice and solid and give decent feedback when pressed. Obviously the layout of an Apple keyboard is slightly different from a standard Windows keyboard but once you are used to it, it makes little difference.
Moving onto the touchpad and this is an area where Apple has led the line for many years, and the multitouch pad on the 11in MacBook Air is simply superb. It features a thin screen of glass over the metal skeleton and offers a beautifully smooth scrolling experience.
Practically the entire trackpad is clickable with no separate right and left mouse buttons as seen on most trackpads.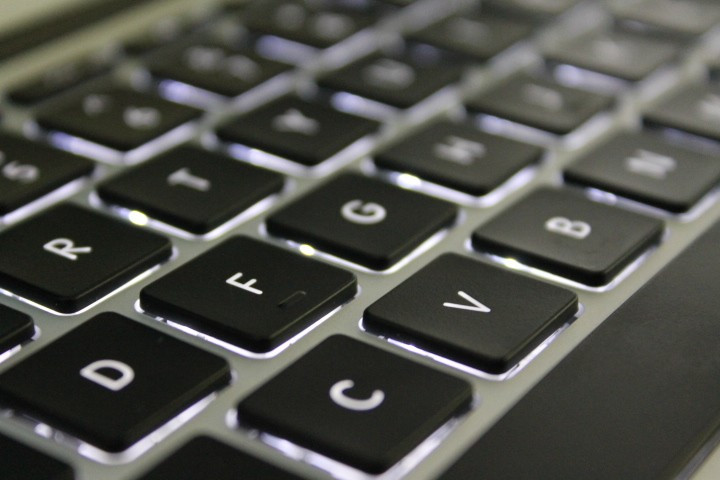 However this trackpad really comes into its own when combined with the latest version of Mac OS X, which uses a range of multitouch gestures for navigations. Along with the regular scrolling function (which is inverted as default on Macs nowadays, but can be easily changed to the traditional version) two, three and four finger swipes and pinches can be employed to swipe between desktops, full screen apps, webpages, the LaunchPad and Mission Control.
It all works brilliantly and as iOS and Mac OS X continue to converge, we expect this to become an integral part of of all new MacBooks.
MacBook Air: Screen
The 11in screen on a MacBook Air has a resolution of 1366 x 768 pixels which is the typical resolution of a normal 13in laptop (up until now at least). This means everything on the 11in screen here looks great. Text and images are pin sharp, and, with the advent of full screen apps in Mac OS X 10.7, we can make the most of the screen.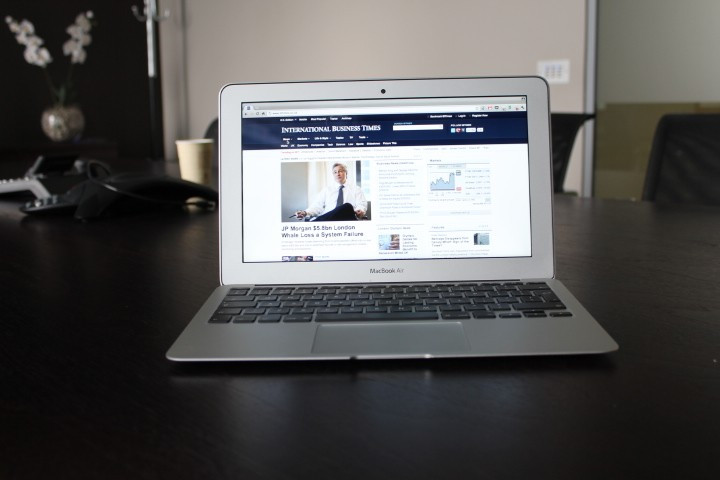 HD movie playback is excellent - though not as good as the IPS display on the Samsung Series 9 - and the screen has pretty decent viewing angles. However as this is an 11in portable laptop we don't imagine many people will be sharing this screen when watching a full length movie. Contrast shift is unfortunately still a problem.
One problem we do have with the screen is with the rather large and unsightly bezel around the edge of the screen. While Apple has done a remarkable job of making the screen just 4.86mm thin, we feel that making the screen slightly bigger would have made this laptop so much better.
One thing other manufacturers could learn from Apple, is the inclusion of a thin rubber seal around the inside edge of the lid. It means the keys and screen don't come in contact with each other when the laptop is closed, meaning you don't get imprints of the keys on the screen as you do with some Ultrabooks, particularly the HP Folio 13.
Above the screen you'll find an updated HD webcam which can be used for Skype as well as Apple's proprietary video-calling system FaceTime which is also available on iOS.
MacBook Air: Performance and Battery
The 2012 MacBook Air is powered by the latest, third generation Intel Core processors, codenamed Ivy Bridge. The 11in model we are reviewing features a dual-core 1.7GHz Core i5 paired with 4GB of RAM. If you feel like it, you can boost this to a 2.0GHz Core i7 processor with up to 8GB of RAM, but most people won't need this power boost.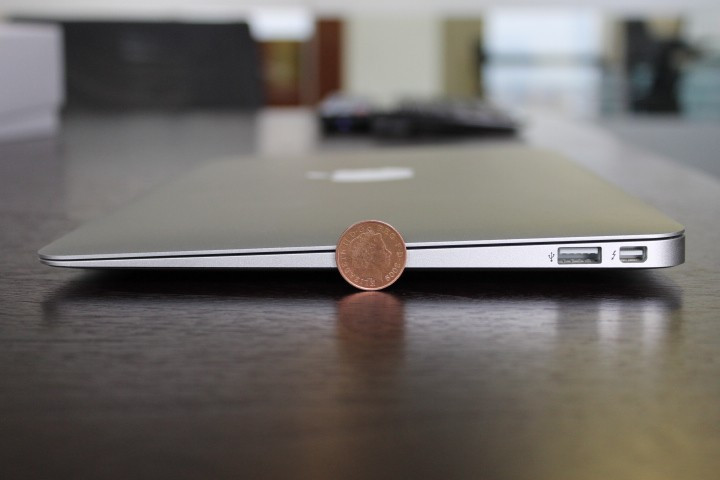 For virtually any work you are carrying out with this portable laptop, the base set-up of Core i5 processor combined with 4GB of RAM is perfectly fine. For the limited amount of people who want carry out intensive movie processing and picture editing while on the move, the more expensive set-up may be needed. But then again we would suggest they just buy the new MacBook Pro with Retina Display.
Watching HD movies, streaming video, light picture editing and even some video editing was all carried out quickly, silently and without turning the laptop red-hot at the same time. As you can see from our benchmark testing, the MacBook Air beats all other Ultrabooks we've looked at so far.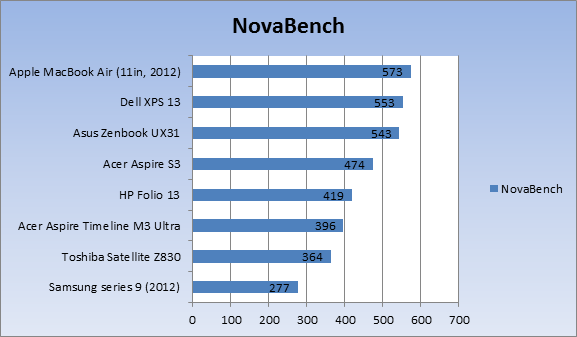 Battery life with portable laptops like this is one of the most important aspects to consider when chosing which to buy. Apple claims you will get 5 hours on a full charge with Wi-Fi turned on but this is not the case in our experience, with just over three hours a more accurate prediction.
Begin watching a HD movie, and you'll barely get to the end of a couple of episodes of Game of Thrones before reaching for the charger. There are of course things you can do to extend this battery life, but why should you have to compromise in order to get a few more minutes of battery life.
MacBook Air: Verdict
The 2012 MacBook Air is stunning. It is slim, light and well-built with a great screen, keyboard and trackpad. The addition of USB 3.0 is a good move, though the lack of HDMI (yes, we know you can get an adapter for the ThunderBolt port but why should you have to) and SD card port are a negative point.
Battery life is not great and that big bezel is annoying, but at the end of the day, this is simply the best 11in ultraportable laptop on the market today and if you can afford the relatively high price, then there is no better option on the market.
Scores
Overall 9/10
Battery Life: 7/10
Design: 10/10
Performance: 9/10
Features: 8/10
Screen Quality: 9/10
Value: 8/10
The Good
Stunning design
Great screen
Great trackpad and keyboard
The Bad
No SD card slot
Poor battery life
Expensive