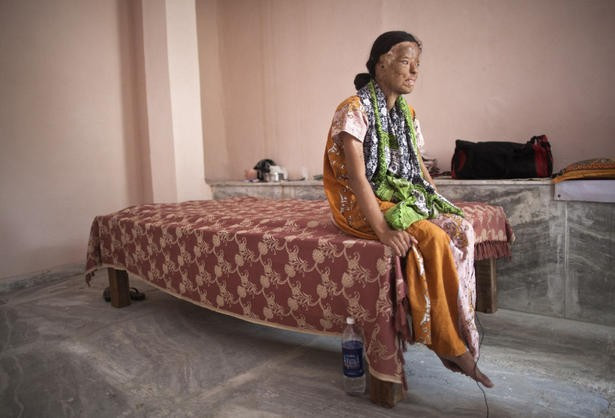 Acid attack victim Sonali Mukherjee has appealed to the Indian government for medical support or to be mercifully killed because she has hardly received any help - nine years after she was attacked.
Mukherjee was 17 years old when three neighbours in her city of Dhanbad, Jharkhand, in eastern India, who had sexually harassed her for months broke into her home and poured a cocktail of acids over her face, disfiguring her for life.
They carried out their cowardly assault because she repeatedly refused their sexual advances and threatened to call police.
The attack left her partially deaf and blind and melted her eyelids, mouth and ears.
Despite growing awareness, documentaries on acid attack victims and the international coverage of the death of acid victim Fakhra Younus in March, Mukherjee said that nine years after the assault she has received little help.
Euthanasia forbidden
In a desperate plea, the 27-year-old has asked the Indian government to help her have access to reconstructive surgery, pass tougher laws on acid attacks perpetrators or allow her to kill herself. Euthanasia is forbidden in India.
"For the last nine years, I am suffering, living without hope, without future. If I don't have justice or my health, my only way out is to die," she told Reuters.
"I don't want to live half a life with half a face."
Financial problems have led her to seek desperate measures, she said, because neither the government nor NGOs have offered her help, she explains.
"After so much disappointment, I have appealed to the government for a mercy killing," she said.
"Life is a huge burden for me and the main reason for that is financial problems. We did not get any help from anywhere, neither from the government, nor society, nor NGOs, nor our relatives.
"We tried a lot and after exhausting all options I requested the government that if you can't give me justice, can't give me health, then this is the last option - give me a mercy killing."
In addition to the psychological and physical trauma, survivors often face social isolation and ostracism.
Although Mukherjee's three assailants were initially jailed for nine years, they were released on bail after three.
Acid attacks are common in Cambodia, Bangladesh, Pakistan, Afghanistan and India. A rise in such attacks has been reported in Colombia, with 100 reported this year.
The victims are overwhelmingly women and children. The attackers often target the head and face in order to maim, disfigure and blind but not necessarily to kill, the charity Acid Survivors Trust International says on its website.
In most attacks, perpetrators want to take revenge on women who have rebuked their sexual advances, marriage proposal or want to separate, studies also show.
Help on the way?
India's National Commission for Womensaid it would do its best to help her.
"The story about how this young girl was attacked and is even today forced to live in hiding because her attackers continue to threaten her is a reflection of so much that needs to change in society,'' said NCW president Mamta Sharma.
"We are writing to the Prime Minister's Office asking them to look at the possibility of helping this girl financially. An NCW team will be meeting the girl. We will see in what way Sonali can be employed, maybe even offer training,'' she added.
Other organisations have since also offered to support Mukherjee.
"The 5th battalion of the National Cadet Corps girls' wing has offered financial assistance and I got help from senior lawyer Ram Jethmalani and some other individuals.
"I haven't heard anything from the Minister for Women and Child Welfare, Krishna Tirath, who assured me that she had written to the Prime Minister's Office seeking help for me," she said.