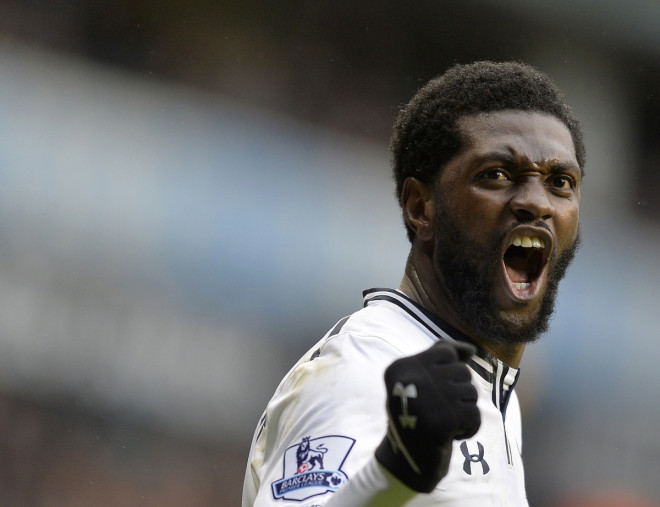 Tottenham striker Emmanuel Adebayor hopes Tim Sherwood stays at White Hart Lane next season, claiming that the boss gave him back his life by restoring him to the squad after his exile by Andre Villas-Boas.
Sky Sports reported earlier this week that Sherwood will be relieved of his duties at the end of the season just six months after taking over from the Portuguese boss in December.
But Adebayor hopes those rumours are untrue, as he was restored to the first team under Sherwood and has enjoyed a resurgence under him.
"I'm a player, he's picking me and I'm scoring goals, so I hope he stays. But I'm not the chairman, I'm not the owner of the club, so no matter what happens I will focus on my football and doing my job for the club," Adebayor said to Sky Sports.
"He [Sherwood] has been a big thing in my life. When everyone forgot about me, he gave me back my life. I'm very grateful and owe big thanks for that. I keep saying it. No matter what happens to the manager, I respect him as a manager and as a footballer."
The striker has arguably been Tottenham's best player under Sherwood thus far, while Villas-Boas gave him just 45 minutes of action until December.
The Togo striker netted a brace against struggling Sunderland in Tottenham's last game, having scored 10 in his previous 15 Premier League starts.
"I'm very happy to be back on the pitch, scoring goals. There are still five games to go, let's focus on that and see what happens in the summer" Adebayor said after the game.
Nevertheless, Tottenham are still sixth in the table, five points off the Champions League places.