Stoke City turned down signing Tottenham Hotspur striker Emmanuel Adebayor, paving the way for the Togolese striker to join Arsenal in 2006.
Adebayor has scored 80 Premier League goals since moving from Monaco seven years ago and has carved out a reputation as one of the best African imports of the Premier League era.
The 29 year old made the ambitious jump to Arsenal having applied his trade in France, but according to Stoke's chief scout Lindsay Parsons, Adebayor's career on English shores could have started altogether more differently.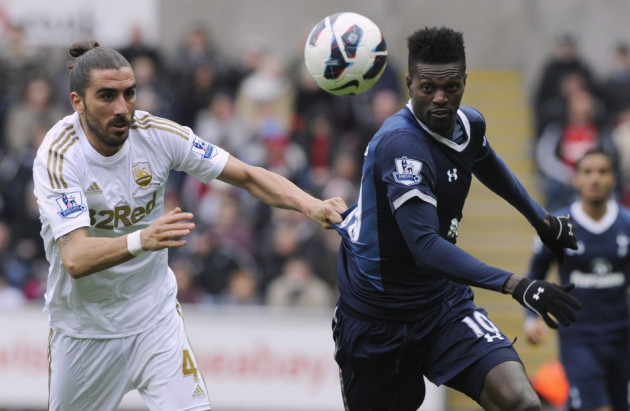 "I remember one of the first names I gave to Tony at Stoke was a lightning-quick, 6ft 4in striker called Adebayor," Parsons said.
"But we were in the Championship and we were told the fee of £3m was too much.
"I have been told that players I've recommended have been too small for Stoke, but I don't go along with that," he added.
"Look at Lionel Messi, he is different class and is he too small? I have recommended players like Tiote, Ben Arfa and Ba. But they have not been signed by Stoke and they have done well for other clubs."
He struck 62 goals across four seasons for Arsenal, eventually replacing legendary striker Thierry Henry before making way for Dutchman Robin van Persie as the club's leading marksman.
His move to Manchester City, which sparked an exodus from Arsenal, started a new chapter in his career however loan spells at Real Madrid and then Tottenham followed as first-team opportunities were reduced.
The ex-Metz forward is now assisting with Tottenham's attempts to finish in the Premier League's top four and in the reach Europa League glory.
But since making his move from City permanent in the summer, Adebayor has scored just two league goals, and with Jermain Defoe expected to be out for 10 days with a thigh injury, the ex-Gunner will be called upon to lead the Spurs attack for the next three games.
Despite his problems in front of goal, manager Andre Villas-Boas said: "Adebayor has been helping the team a lot.
"As a striker, he wants to live off his goal-scoring tag and he has adapted to doing something different. We keep our faith and confidence in him because he is helping the team.
"We try to get him into the goal-scoring positions more often to help him with his scoring tag but we cannot be obsessed with this. He is doing a good job.
"He has been making that link for us very, very well. We have found comfort in a 4-4-2 line up and played that most of the season.
"We always had one striker coming short off the other one and Ade has done that to a great extent this season.
"He has probably played this role with the sacrifice of more goals - that's the reality. Definitely I appreciate that and he realises this."