Adobe will no longer sell its Creative Suite software, which includes Photoshop and InDesign, for a one-off price and will instead charge £47 per month for access to all future updates.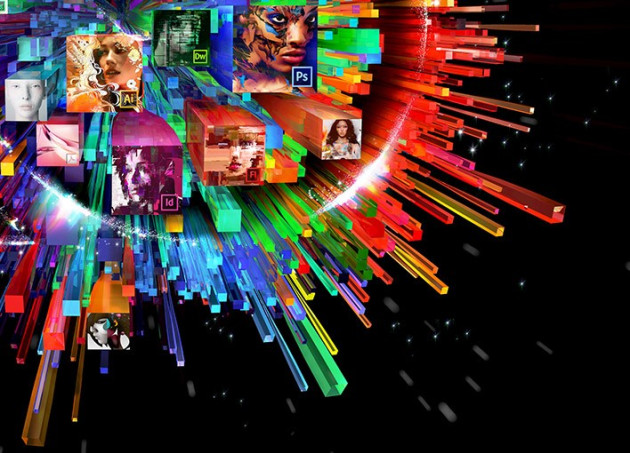 Creative Suite was launched in 2003 and has undergone five major updates over the last decade, culminating in CS6, which was released in May 2012. From now on, all updates will be issued online through Creative Cloud and only to subscribers paying £46.88 per month
While Creative Suite's 16 applications will continue to receive bug fixes and security patches, all future updates will only be distributed through Creative Cloud when they become available, moving Adobe away from its traditional 18-24 month product cycle.
Announced at its annual Max conference in Los Angeles, the move will see regular updates to Adobe's software start to roll out in June; anyone currently using CS6 or older and not a Creative Cloud member will still have full access to their software, but will not receive updates.
Creative Cloud was launched as a pilot scheme a year ago and now has 500,000 paying members, each receiving access to the software, updates as soon as they are made available, and 20GB of online storage to save their work.
Discounts
Customers can choose to pay either £70 for a single month of access to Adobe's products, or £46.88 per month if they sign up to the service for a whole year. Discounts for those who are already running CS3 or higher are available, along with special pricing for multiple users, schools and universities.
Adobe has high hopes for Creative Cloud and said it had to discontinue Creative Suite in order to make the subscription service a success.
The company said: "We believe that Creative Cloud will have a larger impact on the creative world than anything else we've done over the past three decades. It is our single highest priority to enable deep integration between our tools and services.
"In order to accelerate the rate at which we deliver new features and services, and to ensure we do so with the highest level of quality, we are focusing all of our efforts on Creative Cloud."
Subscribers will be able to download, install and use Adobe's 16 creative applications just as before, but when connected to the internet they will gain access to online storage and social networking features that help users share their work with fellow artists and creators.
Users can also create websites, mobile sites and iPad apps to showcase their work, and access video tutorials.
Milestone
Switching to a subscription model is a "milestone for the software industry" and other vendors must do the same before they are left behind according to Frank Hoberg, co-founder of Open-Xchange, a German open-source software company.
In a statement sent to IBTimes UK, Hoberg said: "Adobe has taken a bold step in announcing a subscription-only payment model, but perhaps the biggest surprise is that it has taken so long for one of the big vendors to make this move.
"The rapid growth of subscription services such as Netflix and Spotify in other industries demonstrates that the idea of owning something has transformed and customers are now more comfortable paying for a service that offers all the latest features rather than something that is out of date as soon as it has been purchased."
Such a radical change to its sales model may well cause a user backlash, but the benefits of increased cloud services and the freedom to issue major upgrades are obvious.
Added to this will be a tighter control on piracy, as Photoshop is often considered to be one of the most pirated applications on the web. By tying its software to a monthly subscription model, Adobe will be able to spend less money on improving its digital rights management software used to identify pirated software.