Innocence of Muslims Protests: Female Suicide Bomber 'Fatima' Rams Foreign Workers' Bus in Kabul [VIDEO + SLIDESHOW]
Radical Islamic militant group Hezb-e-Islami claims responsibility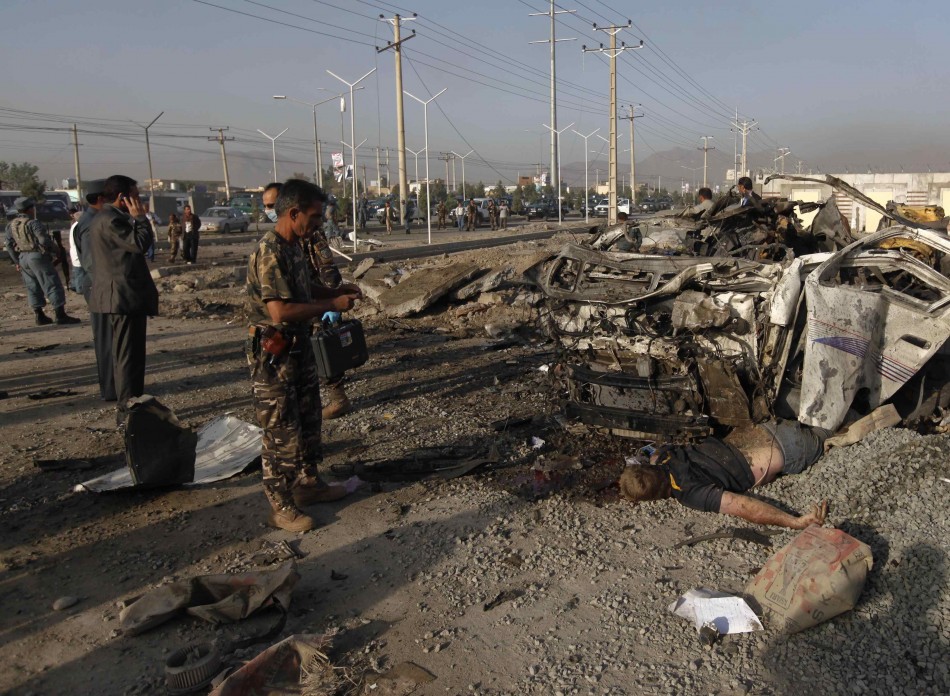 At least 13 people are reported dead after a suicide bombing in Kabul, carried out in response to the Islamophobic film Innocence of Muslims.
The attack took place when a suicide bomber, believed to have been a 22-year-old woman, drove a car packed full of explosives into a minibus filled with foreign aviation workers in front of a petrol station near Kabul airport, killing at least 12 people including eight South Africans.
Kabul police chief General Mohammad Ayub Salangi said the power of the explosion hurled the minibus at least 50 metres. Scores of bystanders were wounded in the attack.
It is reported that nine of the victims were foreign. However the identities of the dead have yet to be disclosed.
Afghan militant group Hezb-e-Islami has claimed responsibility for the bombing, and cited Innocence of Muslims, which has sparked a storm of protests around the Arab world, as motivation for the attack.
Haroon Zarghoon, a spokesman for the Islamist militant group Hizb-i-Islami, claimed responsibility for the dawn attack in telephone call to The Associated Press. He said it was carried out by a 22-year-old woman named Fatima. Suicide bombings carried out by women are extremely rare in Afghanistan - and few if any women drive cars.
"A woman wearing a suicide vest blew herself up in response to the anti-Islam video," Zubair Sediqqi, a spokesperson from the Islamic militant group, told Reuters.
Unlike the Taliban, Hezb-e-Islami rarely carries out suicide attacks on Afghan soil. However the two groups share similar ideologies.
Hizb-i-Islami is headed by 65-year-old former warlord Gubuddin Hekmatyar - a former Afghan prime minister and one-time U.S. ally who is now listed as a terrorist by Washington. The group is a radical Islamist militia with thousands of fighters and followers across the country's north and east. Its
"The foreigners were from a private company working at the airport," an unnamed official told the AFP.
Following the attack, Nato has scaled back its joint patrols with Afghan forces.
More to follow
© Copyright IBTimes 2023. All rights reserved.