Dramatic footage has emerged of a US cargo plane crashing moments after take-off at Bagram air base in Afghanistan, killing all seven crew members.
The Boeing 747-000 crashed into the ground shortly after it began its flight towards Dubai from the air base near the Afghan capital of Kabul.
The footage of the crash, which appears to taken from a vehicle dashboard cam, shows the plane bursting into flames straight after impact. An investigation is underway to determine the cause of the accident, lead by The Afghanistan Ministry of Transportation and Commercial Aviation.
The Taliban originally claimed responsibility for the crash, but Nato's International Security Assistance Force (Isaf) has since dismissed these claims.
The identities of the seven US victims have been revealed as Gary Stockdale, Brad Hasler, Jeremy Lipka, Jamie Broka, Rinku Summan, and Michael Sheets, all from Michigan and Timothy Garrett of Kentucky.
Tributes have been paid to the crew members who were killed in the plane crash.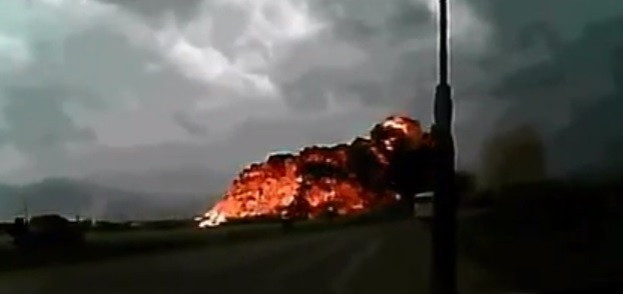 Bill Hasler, borther of pilot Brad, said: "Brad was a wonderful father to two young children, a beloved husband to a wife who is expecting another child, a loving son, and the most loyal and supportive brother I could have ever asked for.
"His influence in the lives of all of us who loved him is immeasurable, and our grief is indescribable."
Elena Garrett, The wife of maintenance crew member Timothy Garrett, described him as "the best father I've ever seen...He would give the shirt off his back for anybody."
One of Brokaw's friends described him as a skilled navigator with significant flight experience, adding he was "a very good person and very smart person".
Glen Joerger, president of National Airlines, the aircraft's operator, said: "This is a devastating loss for our family, and we'll work diligently with authorities to find the cause. Most importantly, our thoughts and prayers are with our crew members and their families."
The compasony added it was a purely cargo flight and no passengers were aboard. The plane's cargo consisted of vehicles and routine general cargo.