Afghan Taliban Attack US Consulate in Herat [VIDEO]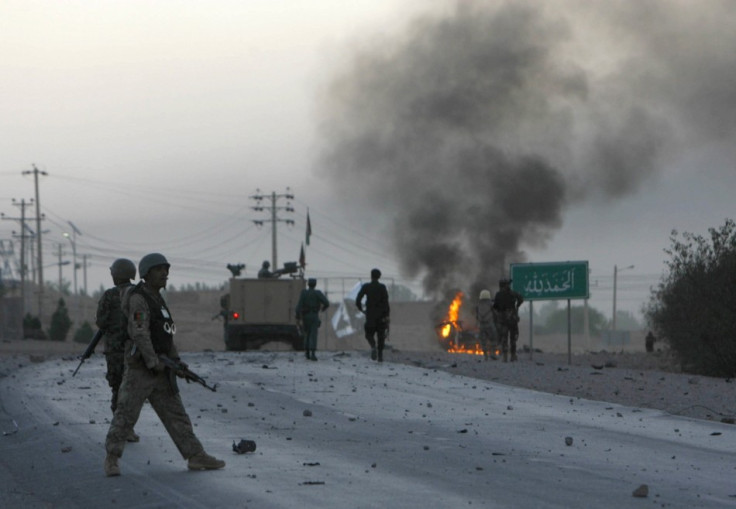 Taliban militants have staged a coordinated bombing and gunfire attack on the US consulate in Herat in western Afghanistan killing at least two security personnel.
The early morning attack followed a powerful explosion of a vehicle carried out by a suicide bomber.
Shortly after the blast, plumes of thick smoke were seen rising over the city accompanied by loud bursts of gunfire between security forces and insurgents.
None of the US consulate staff is said to have been injured in the attack.
It is still unclear whether the insurgents were able to breach the security perimeter of the diplomatic facility, but the outer ring of defence is reported to have been damaged in the bombing.
Reports suggest that American forces were also involved the fight against the militants.
The Afghan Taliban, which usually launches attacks against Afghan and US security forces, claimed responsibility. The latest assault is part of a series of attacks against western forces in the wake of the proposed withdrawal of troops in 2014.
"Our aim for this attack is to show the Americans that they are not safe anywhere in this country," Taliban spokesperson Qari Yusuf Ahmadi said in an email statement sent to reporters.
US State Department spokesperson Marie Harf said, according to the Associated Press, the attack began when "a truck carrying attackers drove to the front gate, and attackers - possibly firing rocket propelled grenades and assault rifles - commenced attacking Afghan protective forces on the exterior of the gates and contracted security guards. Shortly after, the entire truck exploded, extensively damaging the front gate."
Hours after the attack, the Nato-led International Security Assistance Force (ISAF) confirmed all the attackers have been killed.
The western Afghan city of Herat is located near the Afghanistan-Iran border.
The western and northern regions of the war-torn country remained relatively peaceful although incidents of violence sparked by insurgents in these parts have risen recently.
© Copyright IBTimes 2023. All rights reserved.