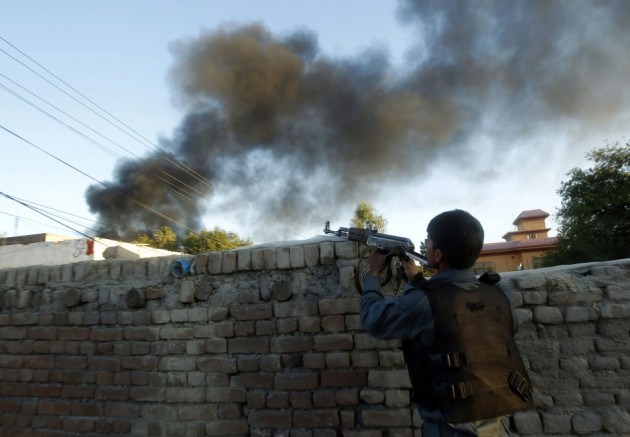 A suicide attack in the east Afghanistan province of Paktia has killed nine schoolchildren and a policeman outside a market.
Afghani police said the attacker was targeting a passing US military patrol.
Gen Zelmia Oryakhail, provincial police chief of Paktia province, said the bomber was on a motorbike who detonated the device outside the market in Samkani while American soldiers were passing. Students who had just left their school building for lunch took the full force of the blast. The troops were unscathed.
On Wednesday, four suicide bombers in eastern Afghanistan attacked the offices of the International Committee of the Red Cross.
It represented a shocking development for an organisation that has worked in the country for more than 30 years without any significant assaults.
Employees working in the Jalalabad compound were evacuated and only one was injured. A guard was killed and another wounded when one of the attackers blew himself up at the entrance of the compound.
The Red Cross is widely respected by both sides of the conflict in Afghanistan. Even the Taliban praised its service to the community in a statement last June.
"The ICRC is providing valuable services by delivering letters to prisoners and informing the families about their health condition, which is really a humanitarian service," it said.
They also condemned the torture and abuse of Red Cross workers. "It is an impartial organisation and works throughout the world for the needy, helpless and oppressed people," it continued.
Taliban denied it was responsible for Wednesday's attack.
"The Islamic Emirate has never targeted civilians and those who, with the exception of espionage, are truly serving the people. We have never attacked them," Taliban spokesman Qari Yousuf Ahmadi said.