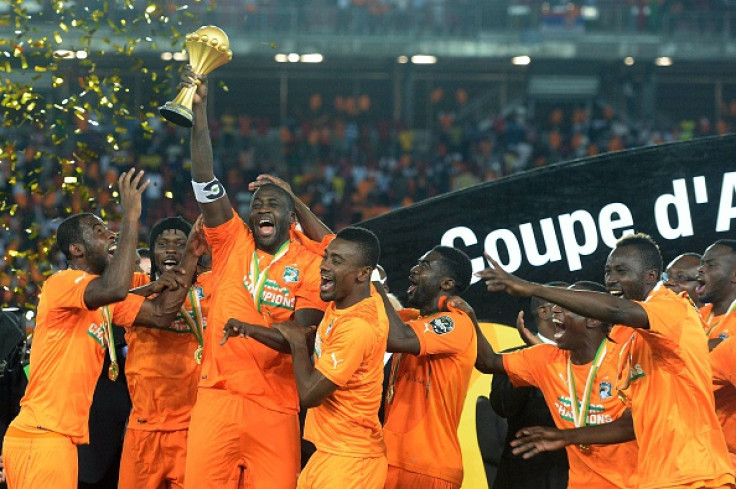 The 2017 African Cup of Nations (Afcon) is the 31st edition of the tournament where 16 teams will fight to be crowned as the champions of Africa. The tournament is held in Gabon, starting from 14 January to 5 February.
Nigeria, who have won the Afcon on three occasions have failed to qualify for the tournament this year. Ivory Coast are the defending champions and the Elephants have made it to the main stage.
Egypt, who have won the African Cup of nations for record seven times have also sealed a berth in the group stages of the 2017 Afcon.
Teams qualified for 2017 African Cup of Nations (Afcon)
Gabon
Morocco
Algeria
Cameroon
Senegal
Egypt
Ghana
Guinea-Bissau
Zimbabwe
Mali
Ivory Coast
Uganda
Burkina Faso
Tunisia
DR Congo
Togo
These 16 teams are divided into four groups, with each group consisting of four teams each. The four groups are Group A, Group B, Group C and Group D.
Group A
Gabon
Burkina Faso
Cameroon
Guinea-Bissau
Group B
Algeria
Tunisia
Senegal
Zimbabwe
Group C
Ivory Coast
DR Congo
Morocco
Togo
Group D
Ghana
Mali
Egypt
Uganda
Where to watch live
The 2017 African Cup of Nations will be telecasted on Eurosport UK in the United Kingdom. Live streaming of the match will be available on Eurosport UK Player.
Schedule:
Match 1: Gabon vs Guinea-Bissau, Group A
Date and Time: 14 January, Saturday - 4pm GMT/5pm local time
Venue: Stade de l'Amitié Sino, Libreville
Match 2: Burkina Faso vs Cameroon, Group A
Date and Time: 14 January, Saturday - 7pm GMT/8pm local time
Venue: Stade de l'Amitié Sino, Libreville
Match 3: Algeria vs Zimbabwe, Group B
Date and Time: 15 January, Sunday - 4pm GMT/5pm local time
Venue: Franceville, Franceville
Match 4: Tunisia vs Senegal, Group B
Date and Time: 15 January, Sunday - 7pm GMT/8pm local time
Venue: Franceville, Franceville
Match 5: Ivory Coast vs Togo, Group C
Date and Time: 16 January, Monday - 4pm GMT/5pm local time
Venue: Stade Oyem, Oyem
Match 6: DR Congo vs Morocco, Group C
Date and Time: 16 January, Monday - 7pm GMT/8pm local time
Venue: Stade Oyem, Oyem
Match 7: Ghana vs Uganda, Group D
Date and Time: 17 January, Tuesday - 4pm GMT/5pm local time
Venue: Port Gentil, Port Gentil
Match 8: Mali vs Egypt, Group D
Date and Time: 17 January, Tuesday - 7pm GMT/8pm local time
Venue: Port Gentil, Port Gentil
Match 9: Gabon vs Burkina Faso, Group A
Date and Time: 18 January, Wednesday - 4pm GMT/5pm local time
Venue: Stade de l'Amitié Sino, Libreville
Match 10: Cameroon vs Guinea-Bissau, Group A
Date and Time: 18 January, Wednesday - 7pm GMT/8pm local time
Venue: Stade de l'Amitié Sino, Libreville
Match 11: Algeria vs Tunisia, Group B
Date and Time: 19 January, Thursday - 4pm GMT/5pm local time
Venue: Franceville, Franceville
Match 12: Senegal vs Zimbabwe, Group B
Date and Time: 19 January, Thursday - 7pm GMT/8pm local time
Venue: Franceville, Franceville
Match 13: Ivory Coast vs DR Congo, Group C
Date and Time: 20 January, Friday- 4pm GMT/5pm local time
Venue: Stade Oyem, Oyem
Match 14: Morocco vs Togo, Group C
Date and Time: 20 January, Friday - 7pm GMT/8pm local time
Venue: Stade Oyem, Oyem
Match 15: Ghana vs Mali, Group D
Date and Time: 21 January, Saturday- 4pm GMT/5pm local time
Venue: Stade Port Gentil, Port Gentil
Match 16: Egypt vs Uganda, Group D
Date and Time: 21 January, Saturday - 7pm GMT/8pm local time
Venue: Stade Port Gentil, Port Gentil
Match 17: Guinea-Bissau vs Burkina Faso, Group A
Date and Time: 22 January, Sunday- 7pm GMT/8pm local time
Venue: Franceville, Franceville
Match 18: Cameroon vs Gabon, Group A
Date and Time: 22 January, Sunday - 7pm GMT/8pm local time
Venue: Stade de l'Amitié Sino, Libreville
Match 19: Zimbabwe vs Tunisia, Group B
Date and Time: 23 January, Monday - 7pm GMT/8pm local time
Venue: Stade de l'Amitié Sino, Libreville
Match 20: Senegal vs Algeria, Group B
Date and Time: 23 January, Monday - 7pm GMT/8pm local time
Venue: Franceville, Franceville
Match 21: Morocco vs Ivory Coast, Group C
Date and Time: 24 January, Tuesday- 7pm GMT/8pm local time
Venue: Stade Oyem, Oyem
Match 22: Togo vs DR Congo, Group C
Date and Time: 24 January, Tuesday - 7pm GMT/8pm local time
Venue: Stade Port Gentil, Port Gentil
Match 23: Egypt vs Ghana, Group D
Date and Time: 25 January, Wednesday - 7pm GMT/8pm local time
Venue: Stade Port Gentil, Port Gentil
Match 24: Uganda vs Mali, Group D
Date and Time: 25 January, Wednesday - 7pm GMT/8pm local time
Venue: Stade Oyem, Oyem
Knockout Stages
Quarter-final 1: Winner Group A vs Runner-up Group B
Date and Time: 28 January, Saturday
Venue: Stade de l'Amitié Sino, Libreville
Quarter-final 2: Winner Group B vs Runner-up Group A
Date and Time: 28 January, Saturday
Venue: Franceville, Franceville
Quarter-final 3: Winner Group D vs Runner-up Group C
Date and Time: 29 January, Sunday
Venue: Stade Port Gentil, Port Gentil
Quarter-final 4: Winner Group C vs Runner-up Group D
Date and Time: 29 January, Sunday
Venue: Stade Oyem, Oyem
Semi-final
Semi-final 1: Winner Quarter-final 1 vs Winner Quarter-final 3
Date and Time: 1 February, Wednesday
Venue: Stade de l'Amitié Sino, Libreville
Semi-final 2: Winner Quarter-final 2 vs Winner Quarter-final 4
Date and Time: 2 February, Thursday
Venue: Franceville, Franceville
Final
Final: Winner Semi-final 1 vs Winner Semi-final 3
Date and Time: 5 February, Sunday
Venue: Stade de l'Amitié Sino, Libreville