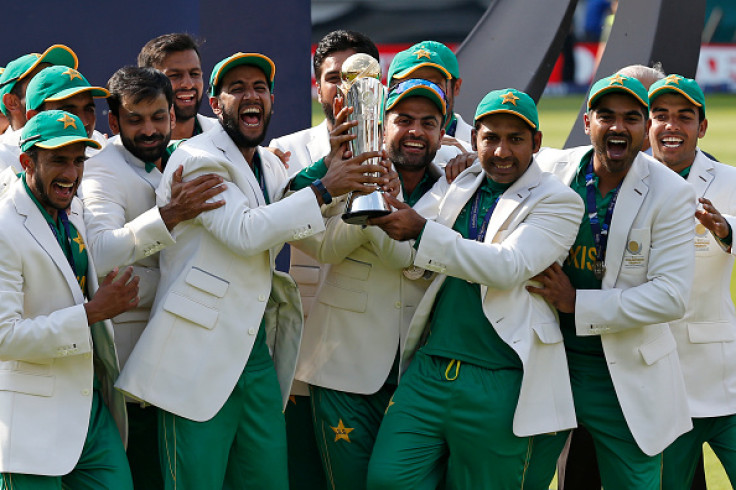 Shahid Afridi believes Pakistan's Champions Trophy triumph over India carried the same magnitude as the side's 1992 World Cup win.
Pakistan upset the odds as they defeated favourites India by a massive 180 runs on Sunday (18 June) to win their first ever Champions Trophy crown and become the fourth team to win all three International Cricket Council (ICC) events.
The achievement was made more impressive when one considers that Pakistan just about qualified for the 50-over tournament, and Afridi thinks this will be a win that will always be remembered.
"This is one victory that Pakistan fans will remember for long," Afridi wrote in his ICC blog. "It has been an ultra-quick turnaround from no-hopers to champions for the Pakistan players and the manner in which the team won the match was really impressive."
"Pakistan has unearthed new heroes in a span of 14 days. From Fakhar Zaman to Hassan Ali and Shadab Khan, Pakistan has shown the world its rich talent and pedigree. In Sarfraz (Ahmed), it now has a captain who can perhaps take the team to unprecedented glory in the years ahead."
With a new generation of players for the future, the former Pakistan all-rounder has compared the Champions Trophy win to the 1992 World Cup.
"The 1992 World Cup win gave us a new generation of match winners and this win ranks very close to that," he added. "I am confident that Pakistan cricket is back on track and we will see this team reach some incredible highs in the years to come, especially if the team continues to play with the kind of passion and commitment displayed in this tournament."
The win in London also saw Pakistan improve in the ICC One Day International (ODI) rankings.
Previously ranked eight with 88 points in May, Pakistan have now climbed up to sixth in the rankings with 95 points, leapfrogging Bangladesh and Sri Lanka in the process.
Below are the full updated rankings:
| Rank | Nation | Points |
| --- | --- | --- |
| 1 | South Africa | 119 |
| 2 | Australia | 117 |
| 3 | India | 116 |
| 4 | England | 113 |
| 5 | New Zealand | 111 |
| 6 | Pakistan | 95 |
| 7 | Bangladesh | 94 |
| 8 | Sri Lanka | 93 |
| 9 | West Indies | 77 |
| 10 | Afghanistan | 54 |
| 11 | Zimbabwe | 46 |
| 12 | Ireland | 41 |