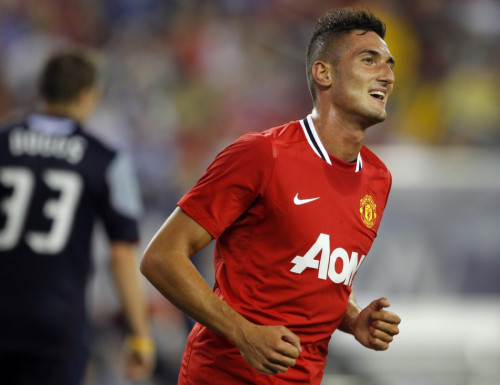 Manchester United forward Federico Macheda will leave the club in the summer, his agent has confirmed, with the Italian likely to stay at Old Trafford until he can leave as a free agent.
Macheda joined the United youth set-up in 2007 and while he quickly made his way into the senior line-up the striker has never been recognised as a regular in the squad, having spend four loan spells away from the club so far.
His most recent was at Championship side Doncaster, but just as Sir Alex Ferguson had his reservations on 22 year old David Moyes is yet to hand him a chance either and doesn't look likely to do so as the striker enters the final six months of his deal with the club.
And Macheda's agent Giovanni Bia has now claimed that with a host of Italian clubs offering to take on the hitman he is likely to wind down his contract with United until the end of the season before leaving on a free transfer.
"United won't loan him out anymore. He will stay till the summer, when he can move on a free," Bia told Tuttomercatoweb.
United currently have a plethora of strikers in their first team and with Wayne Rooney and Robin van Persie currently injured Moyes has called on the likes of Danny Welbeck and Javier Hernandez to step up while Macheda continues to remain on the sidelines.
His future with United looks as good as over and having only spent time at a Championship side in the past year it would be difficult for Moyes to be able to recoup a decent fee for the Italy Under 21 international, who will be looking to increase his game time next season in the hopes of making an impression for the international senior side.