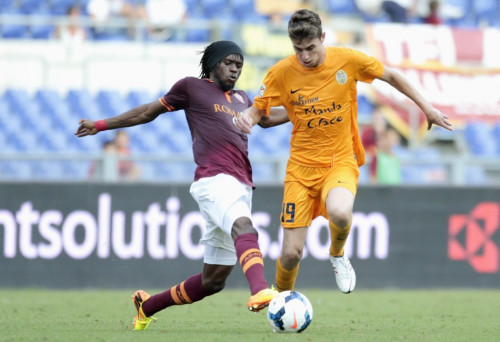 Premier League trio of Liverpool, Chelsea and Arsenal have been handed a major boost in signing Jorginho after Hellas Verona midfielder's agent admitted the Brazilian could leave the Italian club in January.
The 22-year-old has been a traansfer target for London outfits Arsenal and Chelsea, while the Merseyside club have also maintained their interest in signing Jorginho in the mid-season transfer window. The midfielder has been in impressive form for the Serie A side this season, scoring seven goals and managing three assists in 17 league appearances.
Jorginho's agent Joao Santos has claimed his client could leave the Italian side if suitable buyers could submit a "great offer" in the winter transfer window.
"He can leave Verona now if he receives a great offer - if an important proposal arrives it is fair that the player is allowed to leave," Jorginho's agent told Tutto Mercato Web.
Earlier this season, scouts from the Gunners and the Europa League winners have been closely watching Jorginho while in action for Verona. The Brazilian midfielder admitted that he is aware of the interest from Premier League sides.
"In the match against Parma there were scouts from teams like Arsenal and Chelsea. Maybe if I keep playing well I can show exactly what I'm worth," talkSPORT quoted Jorginho as saying in October.
However, any move from Liverpool, Chelsea and Arsenal for Jorginho's services will not be an easy task. The midfielder's agent confirmed there has been interest from three to four clubs from Italy and hinted a move to Napoli could be on the cards in the ongoing transfer window.
Verona take on Rafael Benitez's side in the next league fixture on 12 January. Santos stressed the midfielder is focusing on the next league tie against Napoli. And should they be interested in his services, they need to confirm their interest to Jorginho's current employers.
"Napoli is one of the most important clubs in Italy. If Napoli want him they should talk with Verona, who play their next match against the Blues. Now Jorginho is focused on the team and does not think about the transfer market," Santos concluded.
Meanwhile, Russian Premier League side Zenit St Petersburg are also keen on acquiring Jorginho's services.