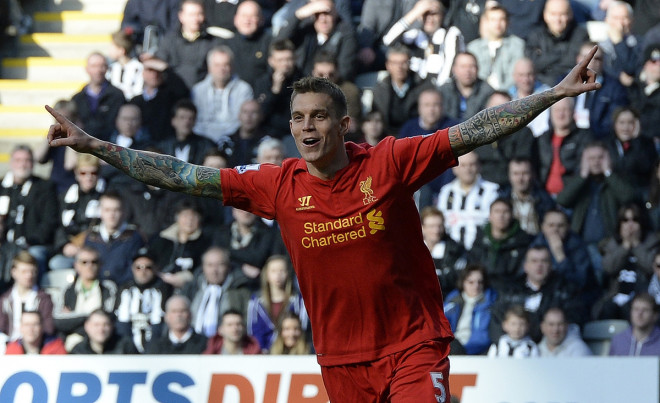 Daniel Agger believes Liverpool are capable of dealing with the pressure as challengers for the Premier League title this season.
The Merseyside club are currently second in the table with 59 points from 28 games, level on points with third placed Arsenal. Brendan Rodgers' side trail league leaders Chelsea by seven points with one game in hand.
With 10 games remaining for this season, Liverpool face Manchester United and Tottenham Hotspur, along with title contenders Chelsea and Manchester City.
The Denmark international insists that there is plenty more to compete as he believes the Reds have not achieved any yet this campaign.
"When you play for Liverpool Football Club, there is always pressure and that won't change between now and the end of the season. Part of playing for this club is being able to handle that pressure," Agger told the Liverpool Echo.
"I think the players here have proved over the course of this season that they are more than capable of doing that. We have had some great results and there have been a few times when we have been all the way up there at the top.
"We are in a good position but we are only in March. There is still a long way to go and a lot of points to play for. We haven't achieved anything yet and we need to keep going over the final 10 games. We have some big games against teams close to us in the table. They are games we have to win," the defender added.
Agger has made 14 appearances in the league this season, which includes a start during Liverpool's 3-0 victory over Southampton at St Mary's Stadium.
The 29-year-old claims the win over the Saints in their previous fixture has lifted everyone in the squad and is hoping for it to be a morale booster ahead of their crucial trip to Old Trafford on Sunday.
"The clean sheet against Southampton was good, not only for me, but for the team. The result lifted everyone and now we're preparing to face Manchester United," the Liverpool vice-captain said.
"In the past we have struggled against Southampton and the game at St Mary's was really tough last season. This time we were clever and that was what got us the three points. If you want to be near the top, you need to be clever," Agger concluded.