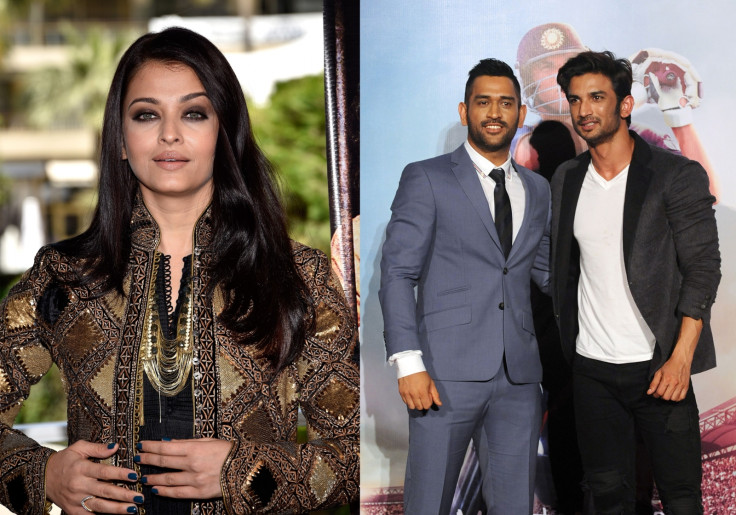 As the countdown begins to one of the most prestigious awards ceremonies of the year – The Academy Awards 2017, the contenders for the coveted Best Picture category are being revealed. This year, Indian movies have a bright shot at making it to the top as two films join the long list of nominations announced by the Academy of Motion Picture Arts and Sciences.
MS Dhoni: The Untold Story, a biopic based on the life of Indian cricketer Mahendra Singh Dhoni and Aishwarya Rai Bachchan starring Sarbjit keep the Indian dream for Oscars alive after South Indian star Dhanush's Visaranai fell out of the race for Best Foreign Film. India-born director Mira Nair's film Queen Of Katwe has also made it to the list of 336 films running for Best Picture in 2017.
Interestingly, both the Bollywood movies that are in the running for the 89th Academy Awards are biopics. Sushant Singh Rajput starring MS Dhoni: The Untold Story features the 30-year-old actor in the titular role portraying moments from the life of one of the most successful captain of Indian Cricket.
Sarbjit, on the other hand, is a narration about an Indian, who died in a Pakistani prison.
Actor Randeep Hooda plays the role of Sarabjit Singh in the movie, while Aishwarya stars in the lead role of Sarabjit's sister, Dalbir Kaur – who went through the entire struggle fighting for justice for her brother.
Speaking about the prestigious nomination, Sarbjit producer Sandeep Singh said, "The Academy was trying to contact us for the last few days, but I thought someone was playing a nasty prank. When it became official, I couldn't believe it. Now, I have realised there are people who value good cinema; they have acknowledged the hard work put in by lead actors."
While becoming one of the contenders in the 336-films long list is commendable, it is too early to celebrate as the Indian films are yet to make the cut after the final shortlist. As of now, the biopics have become eligible for nominations as per the Academy rules that state, "a feature-length motion picture must have a running time of more than 40 minutes and must have been exhibited theatrically on 35mm or 70mm film, or in a qualifying digital format."
Another Indian's mention in the nominations' list include Oscar winner AR Rahman, whose work in Pele: Birth of a Legend, has made it to the long lists for Best Score and Best Original Song.
The final nominations for the Academy Awards will be announced on 24 January before the big night is held in Los Angeles' Dolby Theatre on 26 February. Comedian Jimmy Kimmel will be hosting the Oscars this year.