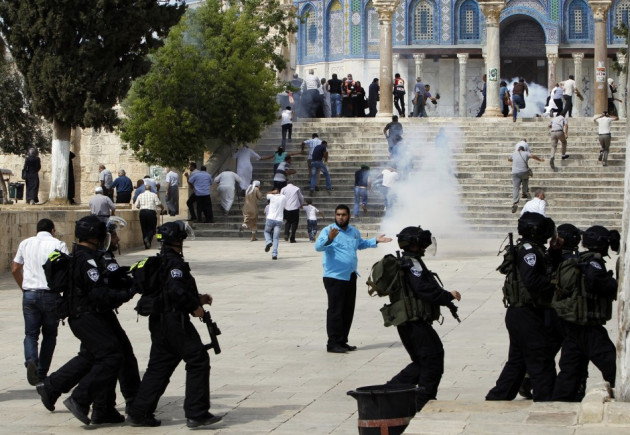 Palestinian worshippers have clashed with a group of right-wing Israelis who entered under armed guard the Haram al-Sharif (The Noble Sanctuary) compound, which contains the al-Aqsa mosque in occupied East Jerusalem.
The group of Jewish extremists, led by Temple Mount Heritage Fund's chairman Yehuda Glick, were met with anger by the Palestinians in the compound, who started hurling fireworks and shouting "Allahu Akbar".
Then, the group was escorted out by Israeli police, according to Ma'an news agency.
The al-Aqsa foundation said that unnamed Jewish organisations are lobbying Israel ministers to erect a Hanukkah candle in the compound.
The Haram al-Sharif compound, known as Temple Mount to Jews, has been administered by an Islamic Waqf (trust) under the authority of Jordan, since the crusades.
It sits just above the Western Wall plaza, where Jews are allowed to pray.
Last month, Arab-Israeli MPs were expelled from an Israeli Knesset meeting discussing plans to allow Jews to pray in the compound.
The MPs were protesting against what they perceive as a desecration of Islam's third holiest site, which has recently been stormed several times by Jewish extremists. They warned that allowing Jewish prayer in the compound would trigger "a third intifada" or Palestinian uprising.
Temple Mount is considered the most holy site for Jews, as it is the place where God chose the Divine Presence to rest. According to scripture, it is where God gathered dust to create Adam, and also the location where Abraham tied up Isaac. It was also the place where Jews believe the First and Second Temples once stood. The Second Temple was destroyed by Romans in 70 AD.
According to mainstream Judaism, Jews are forbidden from entering Temple Mount for fear they would stumble upon and profane the "Holy of Holies," or the inner sanctum of the Second Temple.
The Mount is Islam's third holiest site after Mecca and Medina. It is considered to be the place where Muhammad travelled to Jerusalem and ascended to heaven.