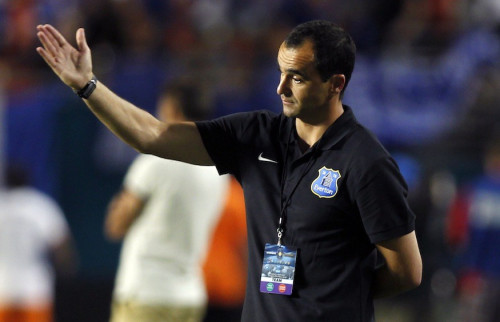 Liverpool legend Alan Hansen believes victory in the Merseyside derby is more important to Everton than his old club with the Toffees in serious danger of losing their place in the fight for a top four finish.
With Roberto Martinez's side travelling to Anfield as Everton manager for the first time the Spaniard will be keen to break David Moyes' winless spell at Liverpool
For both clubs it's an important match in the race for Champions League qualification with Tottenham and Manchester United also in the mix for fourth place.
But Hansen believes that for the Reds it's not the end of the road if they lose the upcoming game while Everton could be looking at a much bleaker chance of finishing in the top four if they come back to Goodison Park without any points in the bag.
"For their hopes of a top-four finish to remain alive, Everton simply cannot afford to lose at Anfield and that is why this derby is all about them," he told the Telegraph.
"While a defeat would hurt Liverpool, they have the ability to recover and push on again.
"But losing would see Everton drop four points off the pace, with Manchester United potentially closing to within two points of them with a win at home to Cardiff.
"Everton are too good to fall away completely, but it would be a long way back if they were to endure another fruitless trip to Anfield.
"The confidence that would come from winning could propel Everton to the incredible achievement of finishing fourth, however."
Liverpool's position in fourth is currently particularly tight with the side boasting the same amount of points as Tottenham and just one more than Everton.
United are six behind but after the side broke their transfer record to sign Juan Mata it would appear they are serious about getting back into contention for a place they have coveted since the modern-day Premier League began.