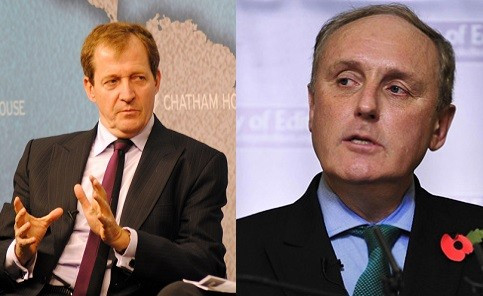 Tony Blair's former spin doctor, Alastair Campbell, has launched an online petition calling for the Daily Mail's Paul Dacre to meet him face-to-face in a TV studio to refute his claims the editor is a "coward a bully and a hypocrite."
As the row over the newspaper's attack on Ed Miliband's dead father, Ralph, showed no signs of abating, Campbell urged people to sign his petition aimed at "holding Dacre to account".
The call for the editor to : "debate with me, or a professional broadcast interviewer, on TV, the attack on Ed Miliband's father and the role of the Daily Mail in the UK's national debate" quickly attracted more than 1,000 signatures and was rising through the day.
Earlier in the week, Campbell had dramatically clashed with the paper's deputy editor, Jon Staefel, on TV and accused Dacre of ducking a debate.
Cambell has now upped the ante, declaring: "Paul Dacre edits the Daily Mail and Mail on Sunday. It gives him a platform to express his views on a daily basis. It gives him access to the homes of millions of people. It gives him the opportunity to harass and bully and misrepresent and twist the truth to fit his own narrow view of the world.
"But one thing he never does is allow himself to be subject to the kind of scrutiny and questioning he expects of everyone else. That is why I called him a coward, a bully and a hypocrite when he refused to debate the attack on Mr Miliband senior as a man who 'hated Britain', and the use of a photo of his grave. Instead he sent his poor deputy to defend the indefensible in a debate with me on Newsnight. Since then the heads have gone back down below the parapet.
"I've long thought that the Daily Mail under Paul Dacre represents the worst of British values posing as the best. If he believes the opposite, and disagrees that he is a poison in our national life, let him find the courage to debate in public.
"I'm hoping that if enough of us call on him to do so, Paul Dacre will agree to come into a TV studio and debate, face to face, why he thought it was appropriate to trash the name of a dead man who fought for his country, and continues to debase British public life by peddling poison in the Daily Mail.
"Sign my petition and lets try to hold Paul Dacre to account, once and for all."
READ:
Ed Miliband v Mail: Labour Leader Furious After Reporter Sneaks into Uncle's Memorial Event