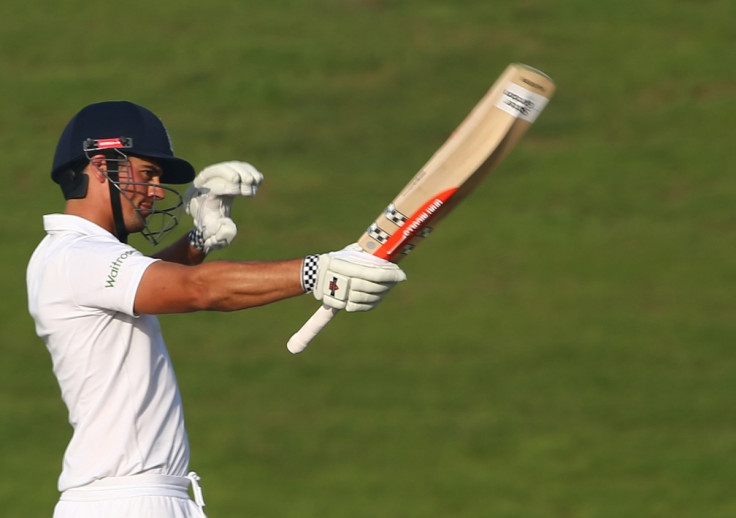 Alastair Cook led the charge in England's attempt to close the gap on Pakistan's 528-8 by hitting an unbeaten 168 not out on the fourth day of the first Test in Abu Dhabi. Ian Bell (65) and Moeen Ali (35) also helped England cut the deficit to 233 runs, closing the afternoon 290-3 on another day where bat dominated the ball.
Opener Moeen was dismissed before lunch after he edged behind off Imran Khan's delivery, having faced 131 balls. Captain Cook, meanwhile, quickly found his rhythm and patiently began racking up runs, and his approach remained just as effective when joined by Bell. The Warwickshire batsman enjoyed a frustrating day after two dropped catches and managed just one run off the first 33 balls, but was able to find some form of his own and aid Cook in England's slow chase before being dismissed by Wahab Riaz.
Despite Cook's dominance, Pakistan ended the afternoon encouraged after snatching two quick wickets for four after dismissing Bell and nightwatchman Mark Wood, leaving Joe Root to enter the fray for the final three deliveries. Cook's consistency on the bat calmed those late nerves however, leaving England with a chance to close the gap even further when they continue on 16 October.
"For the good of cricket, you don't mind the pitch like this for three days if it ends up breaking up – not that we want it to do that because we want to stay in the game," said Cook. "We're still 230 runs behind and that's a long way away. We have got a lot of great batters to come and, after waiting their turn, hopefully they fill their boots too."