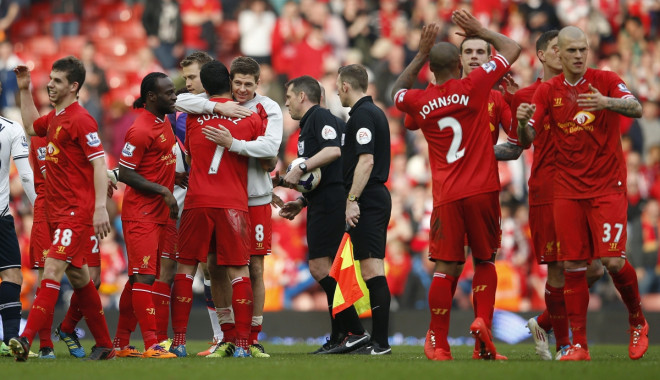 John Aldridge believes that Sunday's Premier League clash between Liverpool and Manchester City will bring out a highly energetic atmosphere at Anfield.
The former Liverpool striker predicts that the home crowd will be highly vocal throughout the game resulting in an environment equivalent or greater than the ones during the Champions League nights.
The 55-year-old also warns manager Brendan Rodgers that Manuel Pellegrini's side will be aiming to boost their own title hopes at his side's expense.
Both sides are still in contention to win the title race. The Reds are currently on top of the table with 74 points after playing 33 matches while the Citizens sit third with 70 points, having two games in hand on the leaders.
"It's going to be an absolute belter when Liverpool lock horns with Manchester City on Sunday. Anfield won't have hosted a bigger league game for a quarter of a century. When you think back to the great nights we've had in the Champions League, this is going to match or even surpass them," Aldridge told the Liverpool Echo.
"The atmosphere will be electric. Every Liverpool fan will be up for it and anyone with a ticket is very lucky because they could have sold out this fixture three times over. It's not quite on the same scale as when we played Arsenal in our final game back in 1989 but it's not far off.
"I like their [City's] manager. Where Jose Mourinho talks nonsense, Manuel Pellegrini speaks sense. He gets on with the job and they play really good football. They won't sit back, they will come to Anfield and attack," he added.
Liverpool are on a nine-match winning run in the league and victory against City will help them further bolster their chances of winning the title.
Aldridge also reserved words of praise for his the Reds' hard fought 2-1 win over West Ham United in their previous league fixture last weekend.
"Sunday was a massive result down at Upton Park. West Ham showed no ambition at all and it was a real test of our character. We dug deep and got the three points we went there for. There is no reason why we can't keep this winning run going to the end," Aldridge concluded.