Liverpool are getting what they asked for, but perhaps not what they had in mind. Just four victories in 2012 put paid to the club's Champions League ambitions but the manner in which they registered their most recent win, a 3-0 triumph over Norwich City, has given John Aldridge cause for optimism.
Before Saturday, Luis Suarez had only hinted at the clinical arsenal at his disposal as a goal scoring frontman. Eight goals in 28 league appearances represented a meagre return from the club's premier striker but Saturday's performance beckoned Liverpool fans to put aside their cynicism about his profligacy and re-engage with more cerebral fare.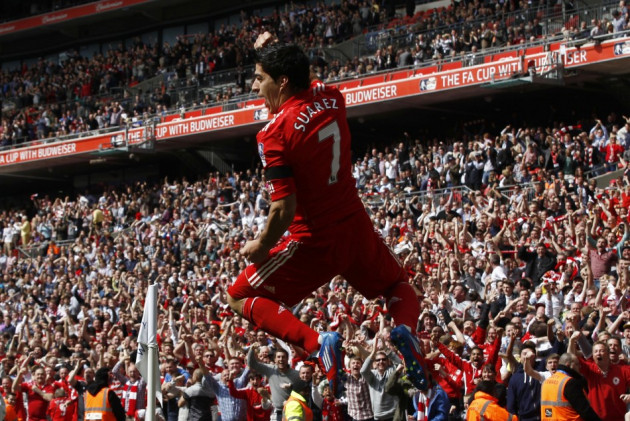 Suarez scored a brilliant hat-trick, including a sublime strike from 45-yards, as Liverpool warmed up for the FA Cup final against Chelsea with a comfortable win over Norwich. And former Reds' forward John Aldridge believes the Uruguayan will prove essential to their success next season.
"The perfect hat-trick, so we're told, is right-foot, left-foot, header. Well Luis Suarez's Saturday treble might have been missing a header, but as far as I'm concerned it was as perfect a hat-trick as I think I've ever seen," Aldridge told the Liverpool Echo.
"The first two goals, with his left-foot and the outside of his right boot, were outstanding finishes of very difficult chances.
"And the goal which gave him the match-ball was, for me, the Goal of the Season.
"I'm not just saying that because I'm a Reds fan. For me that third goal had everything you could ask for in a Goal of the Season winner - technique, vision, audacity - not to mention that indefinable wow factor."
Liverpool manager Kenny Dalglish is expected to rest Suarez and captain Steven Gerrard for the visit of Fulham on Tuesday night but he warned his squad not to rest on their laurels ahead of Saturday's trip to Wembley.
"The most important thing is to be yourself and play as you normally play - I think that is common sense," Dalglish told the Daily Mail. "We have to give every player the best possible chance to be available for Saturday but, at the same time, we have got a responsibility to win this game. That is the priority."
And Aldridge is in no doubt that Dalglish will risk taking it easy ahead of the cup final. The former Republic of Ireland international played under Dalglish when Liverpool lost 1-0 against Wimbledon in the 1988 final and he implored his former colleague to insure his squad stays injury-free ahead of the weekend's clash.
"[Luis Suarez is] running into some sparkling scoring form at just the right time in the season - and that's why I think Kenny should wrap him in cotton wool tonight," added Aldridge.
"He's so important to Liverpool, especially the way he's playing at the moment that I would hate to see him pick up a soft injury ahead of the Cup Final.
"It happened back in 1988 when Gary Gillespie and Nigel Spackman had a gruesome clash of heads against Luton. It was the last match before the Cup final and was touch and go for a while whether they'd be involved."
He added: "It's a difficult balancing act, but one I think Kenny can do by giving Suarez a break for 90 minutes."
"A fully fit, fresh and flying Luis Suarez can frighten the life out of Chelsea at the weekend - and with Andy Carroll, Craig Bellamy and co I'm sure we have the firepower to get at Fulham - even if they're clearly going to have some kind of reaction after Saturday's beating at Goodison.
"We need to give ourselves as big a chance as possible of beating Chelsea - and that means having Luis Suarez as fresh as possible on Saturday."