Alessandro Del Piero Urged by Italian Rightwinger to Snub Indian Team Over Marines Case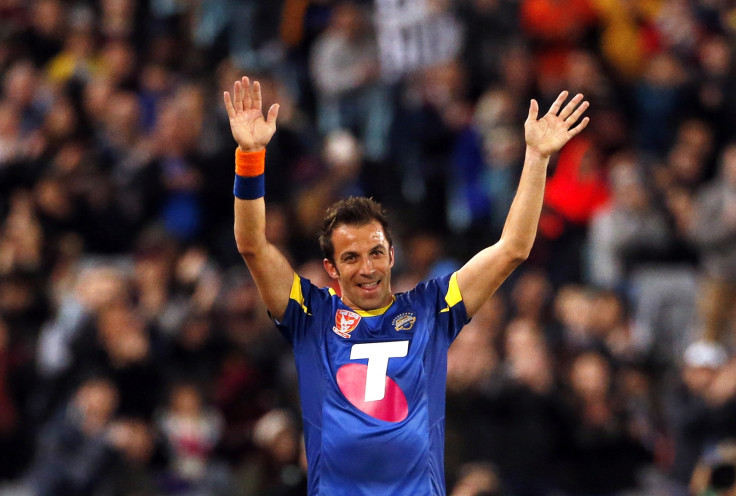 An Italian right-wing politician has called on former Juventus FC legend Alessandro Del Piero to refuse an alleged offer to play for the Indian Super League Delhi Dynamos team until the two Italian marines detained in Kerala state are returned.
Italian marines Salvatore Girone (L) and Massimiliano Latorre sit in a private boat after appearing at the police commissioner office in Kochi November 14, 2012.
Reuters
Marines Massimiliano Latorre and Salvatore Girone are accused of shooting dead two Indian fishermen off the southern state in February 2012. They were part of a security team aboard a cargo ship when they began shooting at a boat they claim they mistook for pirates.
The case has strained diplomatic relationship between India and Italy, which claimed that the offence took place in international waters and thus the pair should be tried in Italy under international maritime law. However India maintains it has jurisdiction over the case.
The 39-year-old former Italy playmaker and striker signed for the Delhi Dynamos after playing a similar ambassador role for the Australian A-League, in the Sydney FC.
He said on Twitter:
But his decision angered Giorgia Meloni, president of the right-wing nationalistic party Fratelli d'Italia (Brothers of Italy) who urged Del Piero to "refuse the offer to play in India until our marines will come back to Italy".
"Del Piero does not need money and fame because he's a symbol of Italian football and a worldwide icon of this sport. Such a stance will not go unnoticed and could represent an important signal against the Indian government and the international community," she said.
Early on August, Italy's PM Matteo Renzi phoned his Indian counterpart Narendra Modi to seek a diplomatic solution to the case. In March, India put legal proceedings against the duo on hold in response to a petition challenging New Delhi's jurisdiction on the case, according to AFP.
© Copyright IBTimes 2023. All rights reserved.