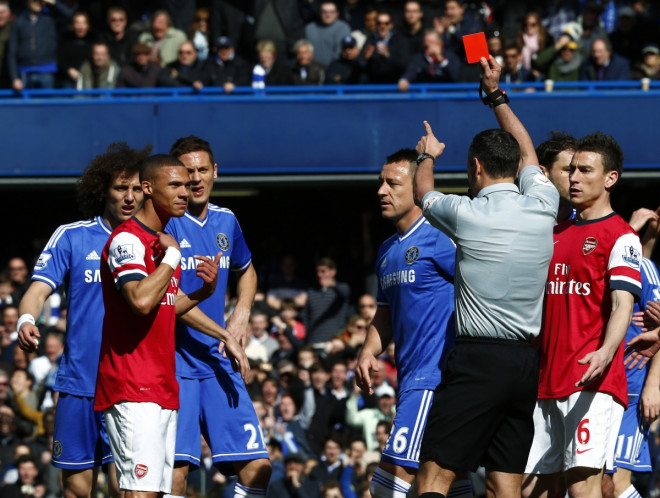 Kieran Gibbs and Alex Oxalde-Chamberlain will both be available for Arsenal's match with Swansea City on Tuesday after the FA released a statement declaring that neither player is facing a ban.
Gunners full back Gibbs was sent off by referee Andre Marriner during his side's 6-0 defeat to Chelsea despite Oxlade Chamberlain being the player who committed the hand ball offence.
Arsenal made two appeals following the decision - one of mistaken identity and the other of wrongful dismissal - which have both been successful, a decision that sees both player escape punishment.
In relation to the charge of mistaken identity, the FA confirmed the sanction against Gibbs had been removed, and instead transferred onto Oxlade-Chamberlain. Arsenal 's second appeal of wrongful dismissal - based on the argument that the England midfielder had not technically prevented a clear goalscoring opportunity as the shot from Chelsea's Eden Hazard was veering wide - has also been upheld.
A statement from the FA read: "An Independent Regulatory Commission today heard two claims from Arsenal, one of mistaken identity and the other of wrongful dismissal, both in relation to Saturday's game against Chelsea at Stamford Bridge.
"The commission ruled that the dismissal of Kieran Gibbs was a case of mistaken identity and transferred this to his team-mate Alex Oxlade-Chamberlain.
"Subsequent to deciding this matter, the commission then considered Arsenal's claim for wrongful dismissal in relation to Oxlade-Chamberlain. This claim was upheld, meaning Oxlade-Chamberlain will not serve any suspension with the standard punishment withdrawn with immediate effect."
Referee Marriner has come under intense scrutiny following Saturday's incident which has prompted calls for the 43-year-old to be dropped from the Premier League's refereeing roster.
However the official has remained in contention and will officiate Saturday's Premier League game between Southampton and Newcastle United.