Alex Salmond blasts BBC Scottish independence coverage after Nick Robinson bullying claims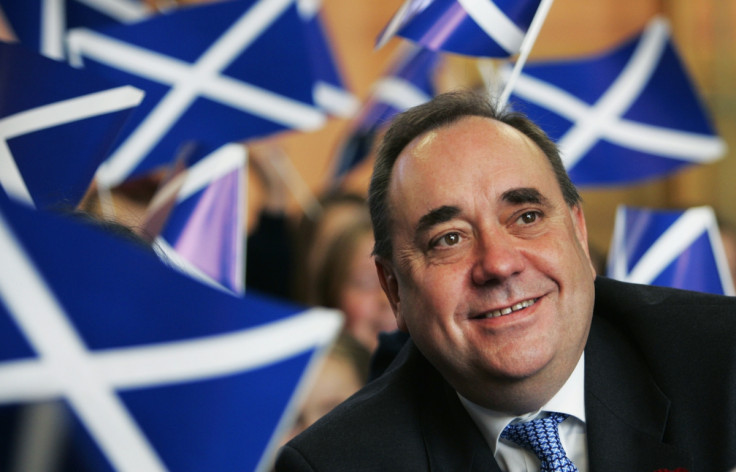 Alex Salmond has attacked Nick Robinson after the outgoing BBC political editor compared protests against his coverage ahead of the Scottish independence referendum to scenes from Vladimir Putin's Russian. The former first minister described Robinson's reports as a "disgrace" and claimed the veteran broadcaster should be "embarrassed and ashamed".
Salmond, the new SNP MP for Gordon, said he had not said anything about Robinson because the journalist was out of action due to lung cancer and "it is unfair to criticise someone who is not able to answer back". But with the 51-year-old back on the airwaves, Salmond told The Courier: "The BBC's coverage of the Scottish referendum was a disgrace. It can be shown to be so, as was Nick's own reporting of which he should be both embarrassed and ashamed."
The nationalist also hit back at Robinson's "ludicrous" claim that thousands of people protesting against his and the BBC's coverage at the broadcaster's Scottish headquarters in Glasgow on 14 September was similar to "bullying" tactics used against the media in Russia.
Salmond added: "It is also heavily ironic given that the most commonly used comparison with the BBC London treatment of the Scottish referendum story was with Pravda, the propaganda news agency in the old Soviet Union."
The remarks come after Robinson made a speech at the Edinburgh international book festival, to promote his Election Notebook. The University of Oxford graduate also revealed that he "regretted" getting into a spat with Salmond in the run-up to the referendum, which saw the province reject independence.
Robinson is set to replace Jim Naughtie as a presenter on BBC Radio 4's flagship current affairs show the Today Programme. Scottish journalist Laura Kuenssberg will move from BBC Two's Newsnight to take-over from Robinson as the BBC's first political editor.
Tony Hall, the BBC's director-general, said: "Laura's an exceptional journalist - I saw that for myself in our studio on election night. Her knowledge of Westminster politics is second to none, but she also has a real flair for asking the questions the audience want answering."
© Copyright IBTimes 2023. All rights reserved.